By Lee Eric Smith, [email protected]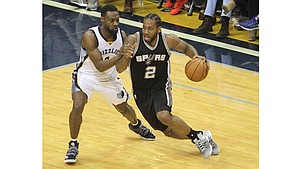 Is this the last playoff run for the Grizzlies "Core Four?"
It's a question that won't really be answered until sometime this summer. But here's what we know: Mike Conley Jr. and Marc Gasol have been signed to long term deals and are in their primes. Both Zach Randolph and Tony Allen are free agents in their mid-30s and are NOT building blocks for the future.
While the team will go as far as Conley and Gasol can take them, the "Grit 'n' Grind" era is defined by the blue-collar, we-don't-bluff personalities of Randolph and Allen. They are a big part of why the city loves the team. They'd both like to retire here. Fans want them to retire here. And yet, the longer they are on the roster, the longer the franchise delays the inevitable rebuild.
Which brings us to the existential question: Do you ride a tried-and-true, playoff battle-tested Core Four until the wheels fall off and you're stuck on the side of the road? Or do you allow Allen and Randolph to go in peace this summer and avoid a breakdown altogether?
And in case you're wondering what kind of playoff preview this is, it's the kind that reminds you to savor this series with San Antonio, this clash of Grit 'n' Grind vs. The Perfect Basketball Machine. Like anything else you love in life, you really don't know when the clock will run out, so cherish the time you have . . .
Now, onto the series. This will be the fifth time that Memphis and San Antonio have met in the Playoffs. Three of those were sweeps —2004 against then-Grizz/current Spur Pau Gasol; the 2013 Western Conference Finals; and last year's injury-ravaged, "who-he-play-for" Grizzlies.
Oh, but that ONE time the Grizzlies didn't get swept! Shane Battier sinks the jumper sealing the franchise's first playoff game victory. A Zach Randolph jumper sealed the series win, that rare occasion when a No. 8 seed upsets a No. 1 seed.
So here we are again, the scrappy underdog from Memphis up against the most consistently successful franchise in the history of sports, this time a No. 7 seed seeking to upset the No. 2 Spurs. What will it take? In honor of the Grizzlies' seventh consecutive playoff berth, here are seven questions to ponder during this first-round matchup, followed by my prediction for the series.
Is it Mike Conley Time?
Conley is the youngest of the Core Four, and up until this season, the most deferential. At best, he was a fourth option, behind Randolph, Gasol and Rudy Gay/O.J. Mayo. With the team's inside-out, ground 'n' pound style of play, Conley's job was generally to set up the offense and play solid defense. Over the last two seasons, he evolved into "Clutch Conley," taking over fourth quarters to help seal wins.
But with David Fizdale's arrival (oh yeah and that NBA-record $153 million contract), Conley has flourished. In addition to his solid defense and game management skills, he's added potent three-point shooting and a willingness to call his own number. Last season, he averaged 15 points and six assists while shooting 42 percent from the arc. This year, he's scoring nearly 21 points a game, to go with six assists and an eye-popping 46 percent from the arc. Oh yeah, and he's healthy for a change.
Conley's always had the skills to be considered an elite point guard; he just didn't have the freedom and confidence that Fizdale has given him. To give his team a chance to advance, Conley will need to be the brightest star in the series, period. He will need to almost make us forget that Kawhi Leonard is on the floor, which will be no small feat. Conduct that, Mike Conley!
Which Marc Gasol will show up?
One thing you eventually learn about NBA players. Eventually, you have to accept that they are who they are.
Take Marc Gasol. He is a team-first, no-excuses type of player. A three-time All-Star who is extraordinarily talented and talkative on defense. He has uncorked a new dimension for himself and his team with his rather reliable three-point shot.
Gasol is also known to be TOO unselfish, passing up his own shot for a teammate. He's known to be somewhat moody, and too often, his game seems so timid you can forget he's on the floor.
If Gasol decides to dominate his matchup against Dewayne Dedmon and Pau Gasol — IF HE DECIDES TO — The Grizzlies should be able to steal at least one game in San Antonio. If he decides to keep that focus — IF HE DECIDES TO — the Grizzlies could win the series.
Will Z-Bo be a bully off the bench?
The classic game plan for the Grizzlies (especially for the Spurs) has been to limit Zach Randolph by guarding him with taller players like Tim Duncan and Tiago Splitter. Opponents would also try to make him defend athletic "stretch fours" who could shoot and run the floor. Even a younger Z-Bo couldn't really handle that assignment; this older one can't either.
But Duncan and Splitter are gone and Randolph now comes off the bench. And Pau Gasol, though tall, is ill-equipped to handle Randolph. In fact, except for maybe Dedmon, there isn't a player on the Spurs who can bang in the post with Z-Bo. If Grizzlies bench shooters can keep defenses from crowding Randolph, he should have a great series. And speaking of the Grizzlies bench . . .
Will Troy Daniels get hot and STAY hot?
As a designated gunner, Troy Daniels has teased and tantalized fans all season. When he gets hot from beyond the arc, he can singlehandedly erase a 15-point deficit or create a 15-point lead for the Grizz. That's WHEN he gets hot.
Unfortunately, he doesn't reliably get hot. And too often, he seems trigger-shy, unwilling to shoot even though Fizdale has given him a green-light.
For this series, he will need to pull the trigger frequently, to keep defenses from sagging onto Randolph when they're on the court together. If he makes them, great. But in a league that's gotten faster and more high scoring, Memphis will need to put points on the board just to keep up. So fire away, Troy Daniels. Fire away!
What can be done about Kawhi Leonard?
Leonard will deservedly get some MVP consideration. And lest we forget, Leonard already has one Finals MVP under his belt. Despite his quiet demeanor, the man certainly knows how to turn it up in the playoffs. And with the departure of Tim Duncan, Leonard has become the focal point of the Spurs attack, while continuing to be an elite defender.
The Grizzlies will have a tough time containing him, but there's hope. Tony Allen has been known to frustrate an MVP contender or two in his own right. And quietly, late-season addition Wayne Selden did a yeoman's job defending Leonard in their recent matchups. Then again, MVP-level players are known to elevate their games in the playoffs. If Memphis can keep Leonard from dominating, their chances of winning the series improve dramatically.
Do you like Pop or Fizz?
Fizdale has expressed his utmost respect and admiration for Gregg Popovich. What NBA coach wouldn't want Popovich's career? Five championships and 17 straight playoff appearances?
That said, despite being a rookie head coach, Fizdale has his own bona fides, winning two championships as an assistant in Miami.
The edge in coaching obviously goes to Popovich, who has literally had the better part of 20 years to establish a championship culture, and has players who intrinsically know what he wants to happen on the court. In contrast, this will be Fizdale's first playoff series as a head coach with players who have struggled to deliver what he wants during the regular season. Can Fizz coax enough discipline and execution out of his squad to win four games?
Ye Olde Spurs
Two of the NBA's oldest players will get significant playing time in this series. With Chandler Parsons out, the 40-year-old version of Vince Carter has found his way into the Grizzlies starting lineup. And at 39, Manu Ginobili is still a rotation player for Gregg Popovich. Then, of course, there's Tony Parker, who is getting older (34) and was banged up this season.
So. What.
Whatever Ginobili and Parker may have lost in speed and agility, they make up for with championship experience and savvy. They will still provide much of the precision that The Perfect Basketball Machine is known for. Still, it will be interesting to see if the Grizzlies can exploit any weaknesses Ginobili and Parker may have.
Prediction:
Crazy as it sounds, this playoff series is the most favorable one the Grizzlies could have asked for, once the fourth seed was deemed out of reach. I just don't think Memphis can score with Golden State or Houston enough to win a series, maybe not enough to win a game.
That's not to say this is a favorable matchup. As usual, San Antonio will help Memphis make mistakes and then will make Memphis pay for those mistakes. The Grizzlies also can't afford those lengthy scoring droughts where they only muster 17 points in a quarter. It will take a dominant Conley, an aggressive Gasol and everything else falling just right for Memphis to win this series. Technically that's possible, but not very likely. Spurs in six.