By Michael Harriot, The Root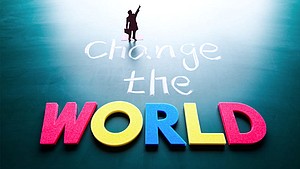 We are so often overwhelmed with complex issues and bad news that it is easy to forget the impact that a single individual can have on the world. Instead of highlighting the problems, sometimes it is necessary to find solutions for the problems around us, so we have created this handy guide that anyone can use as a resource to change the world around them.
We here at The Root sifted through hundreds of online resources and found the most effective online tools for change. We based our results on ease of use and the effectiveness of the results. While this may not serve as a magic wand, if every individual uses these tools, the small, incremental actions could actually change the world.
Register to Vote
Voting is the single greatest thing you can do to effect change in America.
While there are a number of online tools that allow you to register to vote, Rock the Vote seems to be the simplest and most comprehensive, because it uses one form for all users. It also features a portal for people who want to raise their level of activism by registering others to vote.
Vote
Once you register, you have to actually go to the polls and cast your ballot.
Vote411.org is the best resource we could find for information on voting. Fill out the address form, and it will give you poll locations, rules on absentee voting, registration deadlines, election dates and even debate schedules.
Contact Your Elected Officials
The Common Cause website has an excellent tool for finding the contact information for your elected officials. Simply type in an address and the site lists the names, phone numbers and email addresses of the senators, congressperson and state representative for that location. The U.S. Conference of Mayors website will help you find and contact your mayor using your zip code.
One of the most effective ways to effect change is to add these addresses, phone numbers and email addresses to your cellphone's contact list. Whenever an issue arises that concerns you—whether it's a pothole or a Senate bill—call and email someone about it. In your message, make sure you inform them that you are a voter in the district, state or town they represent.
Fight Injustice
"If you see something, say something" does not apply just to terrorism. You should report misconduct anytime you see it.
The ACLU has created the Mobile Justice app, which allows citizens to report police misconduct, and every citizen can download it to their cellphone. It records video, takes an actual report and sends it to the appropriate agency. The app varies from state to state, but you can find your state-specific app by visiting the website.
The best way to report other incidents of misconduct and crime is to contact the most dogged source working for citizens today: your local newspaper or television station. Most journalists love a juicy story, and sometimes you'll get better results than working through official channels. If your location settings are turned on in your web browser, the best way to find the news outlet nearest you is to Google "local newspaper" or "local news station."
Help Someone
We looked at a number of resources for people who are willing to volunteer their time and effort, and found three with the easiest and most comprehensive tools for matching you with a volunteer opportunity:
1- VolunteerMatch.org boasts more than 113 organizations with whom it has matched over 12 million volunteers.
2- AllForGood.org lets charities and prospective volunteers sign up and connect on its site.
3- DoSomething.org connects people and creates volunteer campaigns for people who want to address certain needs. You can create your own campaign to clean up a city or volunteer at a local school.
Bookmark this page and use it as a resource whenever you need it. No one is saying that you can change the world by yourself, but why not try? Plus, you only have about six more months before Donald Trump blows it up, anyway.