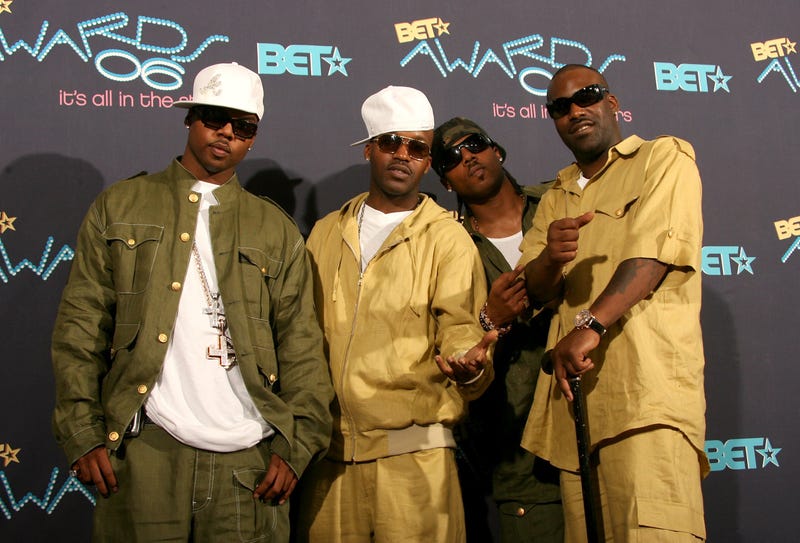 Twins Brian and Brandon Casey along with their friends Richard Wingo and Kyle Norman made up the 1990s R&B group, Jagged Edge. Unlike boy groups like New Edition or Jodeci, the individual members didn't become household names or branch out into solo careers, but their sound was so unique that even traditional R&B balladeers like Luther Vandross referred to them as one of his favorite groups.
"He came on 106th & Park and surprised us once," Brandon told The Root about the relationship they had with Vandross.
The group will premiere their story on TV One's Unsung this Sunday at 10 p.m. EST following the season opener profiling Wyclef Jean at 9 p.m.
The group's mix of influences—from traditional R&B to singing in the church choir to the twins' mother, who was a jazz singer and Wingo's father, who owned adult clubs in Atlanta—helped to create a sexy R&B sound that would fill a niche for a group that helped to reign in a new kind of swag for bad boy groups. They could sing romantic ballads like "Promise" and "Gotta Be," pragmatic wedding songs like, "Let's Get Married" and up-tempo party thumpers like, "Where the Party At" all while wearing floor-length fur coats, Timberlands and do-rags.
With eight albums as a group, four of which went double platinum or gold, they helped to define the Atlanta R&B sound for Jermaine Dupri's So So Def Records, which was distributed by Columbia.
At Columbia they were paired with Destiny's Child, touring together and being managed by Matthew Knowles for a short period. "Columbia was smart in putting both of our marketing plans together," said Brian. "We would have split posters—them on one side and us on the other."
But when the twins got involved romantically with LaTavia Roberson and LeToya Luckett, Knowles wasn't happy. Tensions mounted, and not long after, there were new members of Destiny's Child replacing the Luckett and Roberson.
Jagged Edge was discovered by R&B group Xscape member Kandi Burruss-Tucker who went to Tri-Cities High School in East Point, Ga., with Richard Wingo. They sang in the choir together and took acting classes together. After graduation, the group produced a demo and Wingo wanted Burruss-Tucker's advice on how they could improve it.
But Kandi kept the demo.
"She kept that demo and I'll tell you she fell in love with it. She took it straight to Jermaine and history was written," said Wingo.
Jermaine Dupri thought with their hood sensibilities, he could make them into the male version of Xscape.
The partnership of Dupri and the group resulted in a string of hits, including "Let's Get Married" and "Where the Party At." When Dupri remixed "Let's Get Married," it had the distinction of being a No. 1 hit song twice.
But success started going to their head. A tight-knit friendship began to be filled with fights and reckless behavior. Wingo was drinking five nights a week. The group rolled joints at press conferences. There were fly cars, fly girls and DUIs. They went into full rock star mode, without the forgiveness rock stars receive.
"Rock stars get away with that kind of stuff. Our behavior at first was something J.D. (Dupri) loved," remembers Brian. "Cause that's what he would always say—these dudes are like rock stars. But he was like once you put the record out you gotta do a little better than that. Some of the more prestigious people in the game were like, 'you can't be like this.'"
The label enrolled the group in anger management, but on the last day they got into a fight. Despite their recklessness, they still managed to make music. And they did it their way, fighting for their image and their sound. The group wrote every song on all of their albums, as well as did all of the production. By the time the albums got to Dupri, says Brandon, they were already finished.
"We fought everybody to be Jagged Edge," says Brandon. "We would literally fight down to the outfit. The funny thing about these things is we always knew we had our finger on the pulse.
"We came along at the end of an era where you had to be either Jodeci or Boyz II Men to be seen. Our label was more known for making artists like Boyz II Men than Jodeci. It was a pop label. If we had fit into their mold, they felt like we could have been a whole lot bigger, and a whole lot easier."
Dupri understood their style and sound and fought for them. But when he cut ties with Columbia, the label made JE an offer they couldn't refuse and the group stayed. The twins started their own production group and wrote for artists like Toni Braxton, Usher and Lil' Bow Wow.
Then the hits stopped coming and Columbia let them out of their contract in 2006.
They went back to Dupri at So So Def and Hard Case Records to make JE Heartbreak 2.
Six months after the album was released in October 2014, Kyle Norman was arrested for a domestic violence dispute. The negative publicity caused them to lose sponsorships and support from their fans. The album didn't chart.
But the group never broke up or lost their commitment to their music. They recently finished a new album entitled Layover. 
"The new album? It's like crack. We started off with six records and we just kept adding records. It's all Jagged Edge," said Wingo.
"It was a lot of big companies that made Jagged Edge a household name, but at this point in time it's all Jagged Edge. It's all black-owned."