By TSD Newsroom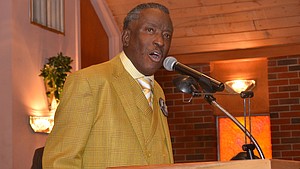 SCLC Memphis Chapter president the Rev. Dwight R. Montgomery has passed.
Rev. Montgomery was the long-time pastor of Annesdale-Cherokee Baptist Church, where the Southern Christian Leadership Conference had its local headquarters.
Rev. Montgomery was particularly focused on the growth and development of Memphis area youth. In an ongoing way he preached about the need for more community involvement to ensure more children in Memphis have better education opportunities and structure.
In July, Rev. Montgomery and SCLC Memphis hosted the SCLC national convention. Dr. Charles Steele Jr., SCLC's national president/CEO, said Dr. Montgomery had been one of his best friends for the past 14-15 years.
"He was always there for me. There was never a doubting moment in my mind that when I called on him he wouldn't deliver," Steele said on Wednesday morning.
"I talked to him just this past Thursday within a few hours after he had surgery. I was in Cincinnati speaking at the National Baptist Convention and he got his assistant to get me on the phone. I said, 'Dr. Montgomery, I know God is blessing you and our organization but let's talk in a few days you need to rest right now.'
"He said, 'Just let me tell you this – we are going to have a great commemoration and acknowledgement of Dr. King's birthday and his assassination in January and April of 2018. We are going to have a great program.' I said I know it Dr. Montgomery but get your rest right now. You don't need to worry about that right now."
Steele said Rev. Montgomery replied, "Well, you are my president and I want you to know that I'm going to be there for you.' That was the last time we spoke and the last words he said to me."
The New Tri-State Defender is reporting on Mr. Montgomery's passing and will feature that account in the edition that publishes on Thursday.