By Warren Roseborough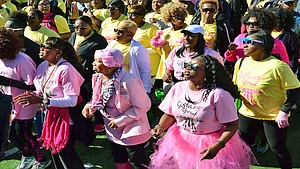 Dedicated to heightening awareness about the issues of breast cancer in women of color, Sister Strut-Memphis did on Sunday what it has now done three years running.
The third annual Sister Strut 3K walk was a magnetic affair, drawing participants from various quarters of Greater Memphis to the Liberty Bowl Memorial Stadium grounds. Inside the stadium, Cheryl Perkins set the pace, leading the soon-to-be walkers in a series of stretching and warm up exercises.
All limbered up, the crowd departed for Tiger Lane. Then step by step, they journeyed along a course through the Cooper Young community, ending back at the Liberty Bowl.
The camaraderie was quite evident. The walkers' bond was the facts:
African American women in the US have a 41% higher death rate from breast cancer than white women.
African American women are more likely than white women to be diagnosed with breast cancer before age 40 and are more likely to be diagnosed with larger tumors.
Awareness of these issues will help survival rates with earlier diagnoses
Like so many among the estimated 6,000 walkers, I too have been personally stung by effects of the dreaded disease.
Part of Sista Strut's mission is recognizing the strength of survivors, their families and friends.
The Sista Strut 3K Walk was powered by the sponsorship of iHeart Media.