By Christen A. Smith, University of Texas at Austin
Diamond Reynolds' live stream of Philando Castile bleeding to death after being shot by Officer Jeronimo Yanez shocked and dismayed the nation in 2017.
It is difficult to imagine the pain of witnessing and archiving the death of a loved one. It is even more difficult to imagine what this must be like when a police officer is pointing a gun at you in front of your four-year-old child. The only word that comes to mind for me is terror, although I am sure that is inadequate. One thing I am sure of: When Philando Castile was killed on July 6, he was not the only victim of police violence in that car. The trauma that Diamond Reynolds and her young daughter experienced marks them as victims as well.
If we as a nation want to truly address the problem of anti-black police violence, then we must shift our national discussions from simply tallying the body count of the immediate dead to assessing the traumatic and long-term deadly effects on the living.
Black women and police violence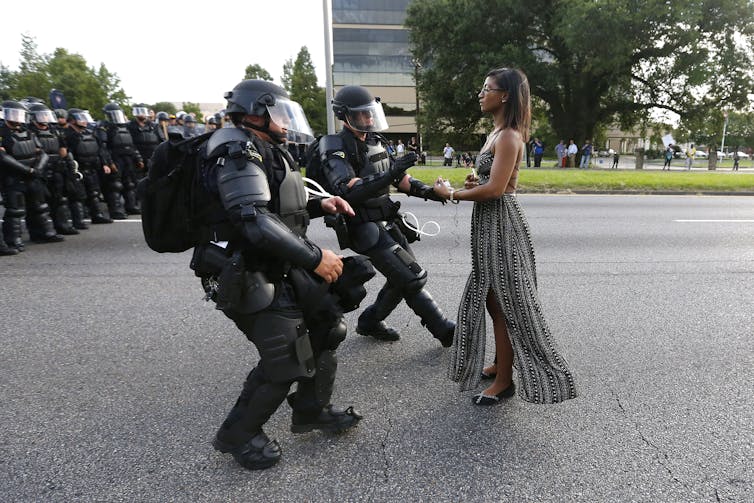 One of the critiques movements like #SayHerName have made of our national discussions of anti-black police violence has been the tendency to focus on the deaths of black men. Yet, while black men disproportionately die from the immediate physical assaults of police (bullets, baton blows, Taser shocks), I believe black women die slowly from the long-term effects of this violence. Like a nuclear bomb, the initial death toll is only a fraction of the eventual body count. Fallout kills those in the vicinity of police violence like cancer over time.
The repeated, public and spectacular killing of black people by police reverberates. Communities, witnesses and family members suffer immeasurable, debilitating pain in the wake of these confrontations.
Diamond Reynolds' cries as police officers threw her still-recording phone and arrested her rather than comfort her in the wake of Castile's death encapsulate this trauma. The small voice of Reynolds' four-year-old daughter, who witnessed the shooting from the backseat of the car, punctuates it as well. The torture of having to relive death by recounting it or witnessing the shooting repeatedly on television and social media compounds this suffering in the days and months after the dead are long gone.
We know from the stories of black mothers who have lost their children to state violence that the lingering anguish of living in the aftermath of police violence kills black women gradually. Depression, suicide, PTSD, heart attacks, strokes and other debilitating mental and physical illnesses are just some of the diseases black women develop as they try to put their lives back together after they lose a child.
To be sure, the police also kill black women directly. At least 15 black women were directly killed by the police in 2015.
We must not ignore them. However, if in addition to those deaths, we count the victims of slow death, then black women may well be the population most impacted by police violence.
Diasporic connections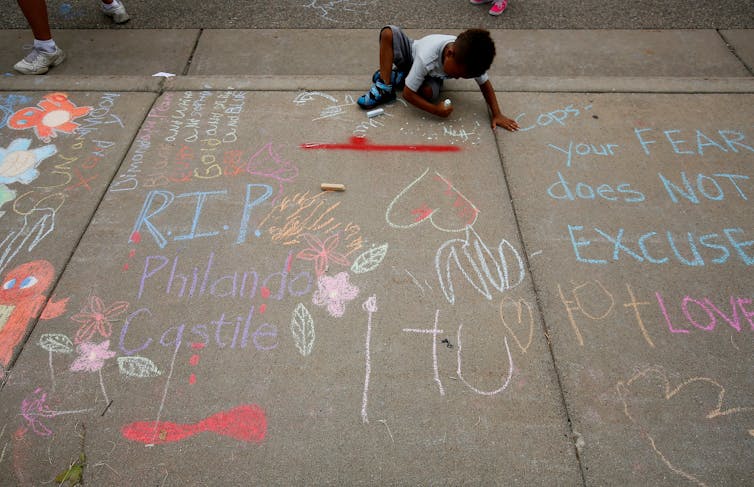 In my research on the impact of police violence on black communities in the United States and Brazil, I focus on effects of police violence on black women, particularly black mothers.
Like the United States, Brazil has a crisis of police violence – and most victims are black. A recent Brazilian study estimates that Brazilian police officers kill approximately six people per day. At least 77 percent of those killed are black. This estimate is likely low because many police killings go unreported like they do here in the United States.
On Nov. 28, 2015 military police officers in Rio de Janeiro murdered five unarmed black youth in the working-class neighborhood of Costa Barros. The five were driving home from the park after celebrating 16-year-old Roberto de Souza Penha's first paycheck, and had not committed any crimes. The officers shot 111 rounds at them.
The terror of the Costa Barros massacre did not end in November. Just days ago, on July 7, Joselita de Souza, Roberto's mother, died of what her family members say was heartache.
Joselita was hospitalized with cardio-respiratory arrest on July 4. The doctors attributed this illness to anemia and pneumonia. However, her family members noted that "she had not been eating for about four months. She would only eat soup." They also noted that she suffered from depression after the loss of her son, but did not have the money to pay for a therapist.
Since 2005 I have been collaborating with the Reaja ou Será Mortx! – React or Die! – campaign out of Salvador, Bahia. The campaign works with the victims of state violence to seek justice in the wake of police killings.
It was while working with Reaja that I first began to rethink the broad impact of police violence on black women. Co-coordinator Andreia Beatriz dos Santos, a medical doctor, uses the term sequela to describe the cumulative aftereffects of state violence on black communities. Sequela is a medical term that means "an aftereffect of a disease, condition or injury." Police violence, like a disease, has immediate and eventual consequences. In my 2012 interview with Santos, she stated,
"We work most of the time with numbers concerning death or imprisonment, but beyond that there are long lasting, lingering wounds (sequelae) … When we have a boy that is dead, a victim of state violence, the effect on the family and the community is so devastating that we cannot even quantify or qualify its impact."
"
Sequelae at home
In my work in Austin, Texas, I have gotten to know some family members of those killed by the police. The story of LaKiza resonates with Joselita's.
Officer Charles Kleinert beat and then shot Larry Jackson Jr. point blank in the back of the neck in July 2013. Jackson was unarmed, and Officer Kleinert was indicted but not convicted although federal charges are pending.
In 2015, I met Larry's sister, LaKiza. She shared with me the devastating impact her brother's death has had on her family. She stopped eating and lost 30 pounds after Larry's death. Her 13-year-old daughter stopped eating and lost 25 pounds. Her mother's health also deteriorated. LaKiza told me that she felt like she was suffering from PTSD.
After the death of Alton Sterling in Louisiana, I spoke with LaKiza again. She said, "every time someone gets killed, it's like ripping the scab off of a healing wound: I relive Larry's death all over again."
Recognizing black women who suffer the trauma of police violence as victims of this violence factors gender into our analyses in important ways.
As we try to hold onto the slippery walls of our national unity, grasping at our democracy, we must recalibrate how we measure the impact of police violence in order to comprehend the magnitude of this epic problem and seek to heal.
This article was originally published on The Conversation. Read the original article here: http://theconversation.com/slow-death-is-the-trauma-of-police-violence-killing-black-women-62264.