By TSD Newsroom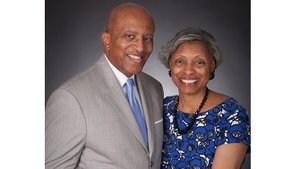 After 43 years of pastoral ministry, Dr. Alvin O'Neal Jackson and his wife, Ernestine (Tina) Jackson, will retire. And they are coming "home" to Memphis to share the transition.
From 1979 to 1997, the Rev. Jackson held the reins of Mississippi Boulevard Christian Church (The Blvd.). And on Sept. 30, a lot of people who are grateful that he did will show up in force to say, "Thank you!"
Dr. Jackson was, says a release announcing the gathering, "that extraordinary pastor who enriched our lives, expanded our vision, reminded us that we have been blessed to be a blessing and helped us to 'claim the city for Christ'"
The Blvd.'s senior pastor, the Rev. J. Lawrence Turner, and first lady Bridgett Turner, quickly embraced the opportunity for an outpouring of appreciation after learning the Jackson's were interested in saying "thanks for the support" to The Blvd. family and the many other Memphis-area friends they made during their sojourn here.
The celebration of mutual respect is set to begin at 7 p.m. at the church at 70 North Bellevue Boulevard. The event is free, with a reception to follow in the Fellowship Hall.
Taking to Facebook, Dr. Jackson posted, "Dear Friends, Tina and I look forward to seeing many of you…. This is a celebration for a cause…."
A significant portion of the proceeds from the celebration will be contributed to the Clyde Cullen and Queen Esther Mace Jackson Scholarship Fund (named after Pastor Jackson's parents) at Tougaloo College in Jackson, Miss., where Pastor Jackson serves on the board of trustees.
The evening will feature many friends of the Jacksons in various roles. The keynote speaker will be the Rev. William Barber II, who had a "drop the mike" moment at the Democratic National Convention along. Others expected to be present are Bishop T. Garrott Benjamin Jr., the Rev. Dr. Delores Carpenter, the Rev. Dr. James A. Forbes and the Rev. Dr. Frank A. Thomas.
The MBCC Reunion Choir directed by Dr. Leo Davis is set to enrich the evening, along with other nationally recognized musicians who served with Dr. Jackson – Gale Jones Murphy, Anthony Walker, Pamela Davis and Fred Yonnet.
"A Night to Remember! To God be the glory!," the Rev. Jackson posted.
Since leaving Memphis, Dr. Jackson has served as senior pastor of National City Christian Church in Washington, D.C. and now serves as senior pastor of Park Avenue Christian Church in New York, N.Y..
Tina Jackson is a former educator in the Memphis City Schools system and served as principal of the MBCC Academy. She also served as principal of Alexander Robertson School (the oldest Presbyterian School in New York city) and taught at Brooklyn College in Brooklyn, N.Y.
A celebration in New York with the Jackson's current congregation will precede the benediction celebration in Memphis. Bonnie Thornton Dill will MC the Memphis program.
(For more information regarding, contact Eva H. Anderson at 901-729-6222, or e-mail anderson.eva@theblvd.org.)