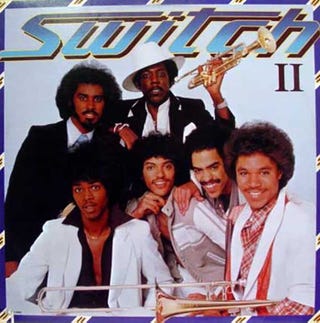 The story of Switch, the group that paved the way for the group DeBarge with sibling harmonizers Bobby and Tommy DeBarge, is a story as much about the journey for self-love as it is about their ability to seduce audiences with falsettos, rich love songs and lush harmonies.
On Sunday, TV One's Unsung tells the story of a talented group created by Greg Williams and led by the talented but tortured Bobby DeBarge, whose demons served as the catalyst for the group's unraveling.
"Bobby had more talent in his pinky finger than the whole family put together," El DeBarge said about his eldest brother on the episode.
The band, conceived by Williams, included instrumentalists Bobby and Tommy DeBarge, percussionist and keyboardist Phillip Ingram (younger brother of James Ingram), trombonist and classical pianist Eddie Fluellen, and vocalist Jody Sims. They drew their sound from a range of influences, including vocalists like the Temptations and bands like Earth, Wind & Fire; Chicago; Tower of Power; and Sly and the Family Stone. The result was a powerful display of multi-instrumentalists and multioctave vocalists who could "switch" from one musical need to the next.
The group's first record deal was with maestro Barry White, who, at their introduction, told the group, which then consisted of Williams, Bobby DeBarge and Sims, "If you mess with me, I'm gonna end your life." But that relationship didn't last long—White would go on to shut down his Soul Unlimited production company—so eventually the group had to find a new home.
The group gathered themselves and created a demo, and Williams and Sims traveled to Los Angeles in hopes of shopping it and getting a deal.
"We told the guys we would have a deal in two weeks," Williams remembers in an interview with The Root. "Who gets a deal in two weeks? I was so confident."
"He had us all believing in him," Fluellen said by phone. "It was literally two weeks to the day, and he said we got it."
They got the deal when Williams and Sims had a chance meeting with Jermaine Jackson and his wife, Hazel Gordy, on an elevator. They deposited their only cassette tape into the couple's hands in hopes that they would listen to it. Within 24 hours, Jackson had called to tell them that he wanted them to sign a deal.
The group signed with the Motown subsidiary Gordy Records and churned out classic love ballads with Bobby DeBarge at the helm, who had been christened with the moniker "the father of the falsetto." Ingram complemented him with lush harmonies on cuts like "I Wanna Be Closer" and "There'll Never Be." The group struggled with their third album for Motown, but their fourth album, which featured Bobby's hit duet with his sister Bunny, "Love Over and Over Again," was proof that despite his demons, which had begun to show themselves in excessive drug use, he still had the magic touch.
Bobby, who had been abused physically and sexually by his father, as an adult found himself struggling with his own sexuality. As his drug use grew more serious, he grew more erratic. Tommy DeBarge was also using drugs and had become a serious addict. At the same time the brothers were devolving, Motown had signed a brand-new group of siblings named the DeBarges. Bobby's younger siblings were now in direct competition on the label with Switch.
Bobby and brother Tommy eventually quit the band with one album left on their contract and mentored their siblings. But because of their contractual obligations, they weren't able to join DeBarge.
When Bobby and Tommy DeBarge left the group, they spiraled further downhill, with both serving five-year terms in prison on drug charges.
During the interim, Williams produced for groups like Sugarhill, TLC and Groove Theory. Ingram got into songwriting, writing for the Temptations, Patti LaBelle and Janet Jackson, as well as for movies and commercials. Fluellen continued playing on sessions and performing at shows in Vegas.
Soon after Bobby DeBarge was released from prison, he released his solo debut, "It's Not Over." At age 39, he was suffering from AIDS-related complications; he died two weeks after his last album was released.
Switch continues to tour with Ingram, Fluellen and Williams and newcomer Akili Nickson, whose voice is eerily similar to Bobby's. Tommy DeBarge has continued to struggle with addiction, while El DeBarge honors Bobby by singing his songs whenever he's onstage performing DeBarge's music.
The remaining members of Switch continue to tour and hope to put out an album soon.
"These are my brothers, period," said Williams. "We never broke up. I have not found anyone greater to make music with."