By Caroline Bauman, Chalkbeat Tennessee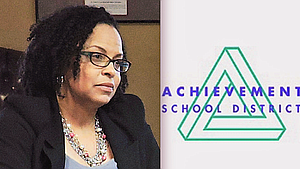 Malika Anderson, who has sought to steer Tennessee's school turnaround district to stability, is stepping down as its second superintendent at the end of this month.
Education Commissioner Candice McQueen announced Anderson's departure on Wednesday, while also reaffirming the state's commitment to the Achievement School District, known as the ASD.
Kathleen Airhart, deputy commissioner and chief operations officer under the Tennessee Department of Education, will step in as interim superintendent, McQueen said in a press release.
The change comes just months after the state overhauled the ASD's structure, cutting its staff in half and bringing in a new leadership team to work with Anderson. McQueen said the goal was to make the ASD more sustainable following the dissipation of funding under Tennessee's federal Race to the Top award, which financed the bulk of the district's early work.
Anderson became the ASD's leader in January of 2016, but had been with the state-run district since its first takeovers of low-performing schools in Memphis in 2012. She took the reins from founding superintendent Chris Barbic, the hard-charging visionary behind the ASD's model of recruiting charter management organizations to overhaul the state's most struggling schools.
"This transition in no way disrupts our work," McQueen said. "We are taking what we have learned about school improvement over the past five years and using that knowledge to maximize students' success by putting in place a strong set of evidence-based options that will drive improvements in students' performance."
The search for a new superintendent starts immediately. According to the release, the state is seeking a leader who can build on the ASD's work, but who also has a deep commitment to Memphis, home to the bulk of the ASD's work. (Anderson lives in Nashville and has commuted to Memphis.)
Under Anderson's tenure, the ASD has grown from 29 to 33 schools, but she also oversaw the district's first school closures last year due to low enrollment.
While scores have been lackluster for most ASD schools (scores released last week for high schools were disappointing), even its critics acknowledge that the district has nudged Memphis school leaders out of complacency and created a sense of urgency to address longstanding deficiencies in neighborhood schools.
"As educators and committed supporters on the front lines can tell you, the work of improving Priority schools (in the state's lowest 5 percent) is some of the most challenging and fulfilling work one can undertake in the field of education," Anderson said in the state's press release. "Although I will transition out of my role as superintendent of the ASD, I will forever champion our continuing work, love and high expectations for every child the ASD is blessed to serve."
With Anderson's departure goes the last member of the team recruited by Barbic to develop a new model for school turnaround work.
"I'm not so sure what's going to happen now," said Bobby White, a former Memphis school principal who operates two state-run schools through his Frayser Community Schools.
"I'm confident the commissioner has a plan, and that we will all work to implement that plan, but I will say it saddens me that there's no longer anyone that started this work with me," said White, who was recruited to the ASD in 2011 by Barbic and Anderson.
Tom Beazley, leader of Promise Academy, which operates one ASD school, called Anderson an "enthusiastic, energetic and supportive superintendent."
"(She) always worked for us to be successful and worked very hard to provide the resources and advocacy for us to do our job," he said.
(Reporter Laura Faith Kebede contributed to this report. Follow Caroline Bauman @carolinebmn; email: [email protected])