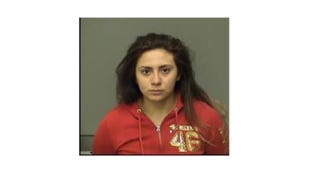 A California teen who was allegedly driving drunk when she livestreamed the car accident that took the life of her younger sister was charged Wednesday with multiple felonies, including gross vehicular manslaughter.
Obdulia Sanchez, 18, of Stockton, Calif., is facing half a dozen felony charges, including felony manslaughter while intoxicated and vehicular manslaughter with gross negligence. The Los Angeles Times reports that she is also charged with two counts of driving under the influence, resulting in injury, and two counts of driving with a blood alcohol content of 0.08 percent, causing injury.
If convicted, she faces up to 13 years and eight months in prison. She is currently being held on $560,000 bond.
Merced County, Calif., Deputy District Attorney Harold Nutt said in a statement:
The behavior demonstrated both prior to and after the incident, as documented by the defendant's own recording, is disturbing and shocking, The Merced County district attorney's office will do everything in its power to see that justice is done in this matter.
Sanchez appeared on video for her arraignment along with her public defender, Ramnik Samrao, who pleaded not guilty to all counts on her behalf.
Samrao told reporters outside the courtroom that although Sanchez admitted to killing her sister in the live video, it is unclear whether a crime was committed.
"We don't know that she was drunk; that's the allegation," Samrao said.
According to the Times, Sanchez filmed herself on Instagram Live on Friday behind the wheel of a 2003 Buick with her 14-year-old sister, Jacqueline Sanchez, and another 14-year-old in the back seat. The video shows the exact moment when she loses control of the vehicle, and a few moments later she shows the body of her sister and says, "I … killed my sister, OK. I know I am going to jail for life, all right? This is the last thing that I wanted to happen, OK?"
Sanchez was previously convicted of reckless driving in 2013, the Times reports. At the time, she was 14 and driving without a license.
A GoFundMe page has been created to help the family pay for Jacqueline's funeral expenses.
Read more at the Los Angeles Times.