By Lee Eric Smith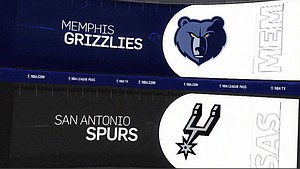 Too bad NBA Playoff games aren't 12 minutes long.
The Memphis Grizzlies looked great in that first quarter of Game 1 against the San Antonio Spurs. Mike Conley erupted for 10 first quarter points, Marc Gasol had it cooking, and Memphis held a 22-9 lead early in the game.
Then the other 36 minutes happened, starting with the second quarter. By halftime, the Grizzlies were down three points. And then the dreaded 15-point quarter happened — Memphis mustered only 15 points in the third, while San Antonio scored 30, eventually building a 36-point lead.
"They just got after us; they upped their pressure," said Grizzlies Head Coach David Fizdale. "They forced other guys to handle the ball. We went over it, we expected it, but we just didn't respond well to it. I thought Mike [Conley] missed some 'chippies' in there in the paint. But give them credit; they really turned the game around defensively against us. They forced us into tough situations in that third quarter and they got out running. They broke the game open in that third quarter."
Not surprisingly, Kawhi Leonard was a big part of that. The MVP candidate exploded for 32 points going a ridiculously efficient 11-14 from the field. Also, the Spurs essentially took Mike Conley out of the game after his hot first quarter. Despite his 10-point first quarter, Conley finished with only 13 points.
Now, as the focus shifts to Game 2, here are my thoughts on the obvious adjustments Memphis must make:
Must SCORE: When Conley and Gasol were dominating early on, everything was lovely. But the game got out of hand because there was no additional scoring. JaMychal Green only scored three-points; Zach Randolph finished with six; Vince Carter had four and Troy Daniels went scoreless. That just can't happen. The Grizzlies need buckets badly, and one or more of these guys simply have to go get them.
Captain Conley: It's no coincidence that Conley sputtered when Gregg Popovich put Danny Green and other long defenders on him. Expect to see Fizdale run Conley off a few more screens to get him some room to score.
Defense: San Antonio shot nearly 54 percent in Game 1. In addition to slowing down Leonard (and without Tony Allen, no less), the Grizzlies have to dig in defensively to make shot difficult for the Spurs, especially in transition. Otherwise, the Spurs can build a lead quickly and being down in San Antonio is no way to win.
But knowing how to stop San Antonio is completely different from actually DOING it. We'll see tonight — tip-off is at 8:30 on TNT and Fox Sports Southeast.