Like many cities along the Mississippi River, Memphis sees its share of flooding. During the spring's continuous rainfall, creeks and other tributaries connected to the river often swell to the banks' edge. If the river is high, water has no place to go — except back into the areas it runs through.
For the southeast Memphis community of Whitehaven, which is located adjacent to Days Creek, it's a scenario that plays out repeatedly. When a heavy, extended period of rain rolls through, the results can be devastating.
The City of Memphis has been looking into long-term solutions for the flooding in Whitehaven since 2015 when it commissioned a study specifically focused on Days Creek. But for many residents, that effort is moving at a snail's pace.
"Several years ago Memphis had a major rainstorm. Due to that storm, Days Creek overflowed.
It flooded several neighborhoods in Whitehaven," said Harold Collins, vice president of community engagement with the Memphis Shelby Crime Commission.
Following major flash flooding in 2014, Collins, then a council member for District 3, which serves a swath of South Memphis from Whitehaven to Hickory Hill, talked to members of the community about their experiences.
"I visited several of the neighborhoods in the area and talked with homeowners. That's when I found out that these rains and floods continue every time we had these flash flood storms," said Collins.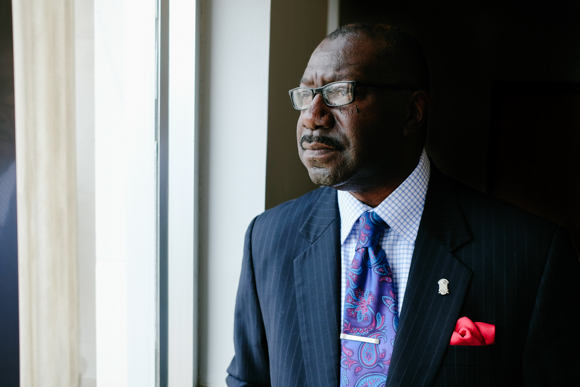 Harold Collins, former council member for Whitehaven's District 3, poses for a portrait. (Brandon Dahlberg)
Whitehaven residents relayed the fact they have been dealing with flooding for years. One resident spoke of her home flooding three times. Others talked of buckled floors, ruined carpet and damaged walls, not to mention the mold problems that come with time.
Taking these concerns to city engineers, Collins was informed at that time that Days Creek is protected under the Tennessee Environmental Conservation Act, which inhibited necessary improvements from taking place. Days Creek starts just east of Whitehaven High School and runs for about 14 miles feeding into Nonconnah Creek around Airways Boulevard and Democrat Road.
The city has to go through a permitting process with the state Department of Environment and Conservation to even remove some of the vegetation.
"They weren't allowed to just clean it out, drain it or widen it because it was a protected area," said Collins.
Hindered by an inability to address the underlying problem, the city made improvements when feasible. A drainage basin which holds excess water and releases it when waters subside in nearby creeks and streams was built in the Valley Wood community. As a result, the neighborhood has seen some relief.
But it's not enough. Many neighborhoods are still at risk.
"In some areas of the city, [flooding] happens to the extent of where people just give up, and it can potentially lead to blight if the property becomes abandoned."
Many homes in Whitehaven aren't insured, according to Collins. Costs for repairs can run in the thousands.
"They have to take out carpeting, flooring, lost furniture and appliances due to the flooding in their homes," said Collins.
To help victims stay in their homes, a fund was created by the City of Memphis to help make necessary repairs. It covers major events that don't receive a declaration of emergency. Managed by the United Way, the Disaster Recovery Assistance Program can award residents up to $5,000 and businesses up to $10,000.
"Several residents have taken advantage of that particular process which has helped them stay in their homes. It gives them the resources to jump-start the repairs," said Collins.
While the fund certainly helps, Collins said it was meant as a stop-gap measure to assist residents with costly repairs and give the city time to implement a permanent fix.
The city has been working with consultant Buchart Horn, an engineering and architectural firm, since 2015 on the Days Creek Basin Study, as part of an overall Drainage Master Plan.
The Drainage Master Plan will study, map and develop a set of recommendations to improve drainage in Memphis, including along Days Creek.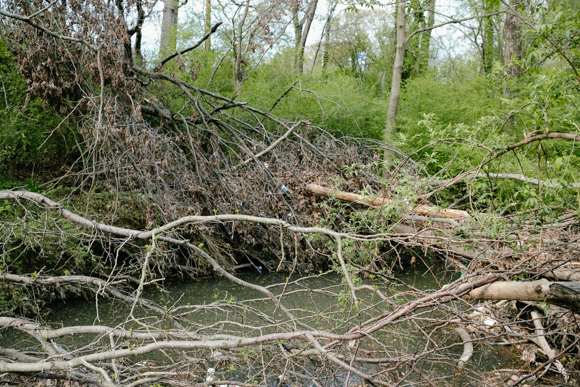 The drainage ditch in the Valleywood community is filled with stagnant water and debris. (Brandon Dahlberg)
The Days Creek Basin study is in the process of being finalized with Capital Improvement Project recommendations coming later this year. The city is analyzing the study's results and with a plan to release possible action items to the public by the end of 2018. From that point, the recommendations would move to the CIP budget phase.
This study is the first attempt at a long-term solution for the flooding in Whitehaven.
"The goal is to study drainage conditions throughout the basin and develop a series of recommended Capital Improvement Projects to lessen the impacts of future storms on public infrastructure and private property," said Manny Belen, engineering director for the City of Memphis.
Along with the financial costs of flooding is a concomitant emotional toll. A forecast of heavy rains can fray nerves. The threat of inundation doesn't help the area attract businesses and other potential employers to the area, either.
"They worry if the rain will create similar problems as to the ones that have occurred in the past. Flooding due to repetitive losses have a financial burden placed on them every time it occurs, which adds up over time. In some areas of the city, this happens to the extent of where people just give up, and it can potentially lead to blight if the property becomes abandoned," said Belen.
Ironically, many residents point to development projects as possible causes of flooding along Days Creek.
"We were told that a lot of the flooding was a result of that I-55 buildup or remake. The state of Tennessee and the state of Mississippi re-did I-55 right there at that juncture. On top of that, there was some construction by the Old Dominion Truck Line. Many of the residents think where they built the Old Dominion Truck Line at Airways and Stateline Road, that caused problems with flooding," said Collins.
Memphis has dealt with flooding issues in the past. Lick Creek, for example, used to back-up during heavy rains. Instead of feeding into Wolf River, it would swell and saturate parts of Midtown. The city has been devoted $18 million to the problem. 
Detention basins were finished at the nearby Snowden School athletic field, Christian Brothers University and Catholic High School in 2015. By lowering the fields three feet, each basin can hold 60,000 cubic feet of water. Later, it is released into the watershed. A basin was also created under the parking garage at Overton Square in 2014.
Memphis funds these projects from a stormwater fund generated by monthly fees on property owners averaging about $4 for most residences. The $24 million a year fund is dedicated for drainage capital projects only.
Memphis officials say it'll take several more years to complete the citywide master plan.
Lick Creek's improvements could be the model for 14 basin projects already underway or being studied, including Days Creek.
For many residents of District 3, the improvements can't come fast enough.
"Every time it rains I know that they get in that posture of 'Am I going to have to go through another flood. When it rains continually like it has recently, they expect flooding to occur," said Collins.