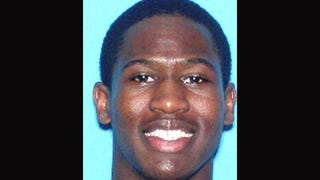 Police in Tampa, Fla. have apprehended a man believed to be connected to four killings that have raised fears of a serial killer in the Seminole Heights neighborhood.
According to WTSP-TV, 24-year-old Howell Emanuel Donaldson III is being charged with four counts of first-degree murder in the case. Donaldson was taken into custody on Tuesday after officers responded to a tip about a gun at a Ybor City McDonald's.
The terrifying killing spree started on Oct. 9 with the shooting death of 22-year-old Benjamin Mitchell. Just two days later, 32-year-old Monica Hoffa was also shot and killed. Anthony Naiboa, 20, was the next victim, gunned down on Oct. 19. On Nov. 14, 60-year-old Ronald Felton was also killed.
As the news station notes, all of the victims killed in October were either getting on or off a city bus, or were at a bus stop when they were shot and killed. Police have said that the killings which happened so close to one another aren't believed to be robberies and could have been the work of a serial killer.
Donaldson worked at the Ybor City McDonald's, and the franchise eatery's owner J.C. Prado confirmed that he and his employees are cooperating with authorities.
It was actually one of Donaldson's coworkers who tipped off police about a gun in the workplace, that authorities later connected to the killings. According to Fox News, Donaldson handed his coworker a McDonald's back with a loaded .40 caliber Glock and allegedly told the coworker that he wanted to leave the state.
The state Department of Law Enforcment and ATF, which analyzed the fired cartridge casings found in all four murder scenes confirmed that the casings were fired from the same weapon: a Glock .40 caliber handgun, an affidavit notes.
"I think when I found out there was a gun and when I found out his description it's a little more than what we had," Tampa Police Chief Brian Dugan. 'I kind of felt we were going to get a break."
AT&T phone records also showed that Donaldson's cellphone was in the area of three of the homicides, according to the affidavit.
Tampa Mayor Bob Buckhorn praised police for their work on the case.
"Tonight is the beginning of when justice will be served," he said. "And then the process will occur when this individual rots in hell."
Read more at USA Today and Fox News.