By TSD Newsroom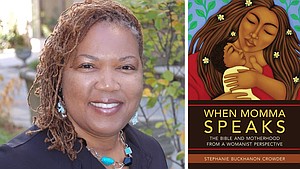 When the topic is the Bible and motherhood, Dr. Stephanie Buckhanon Crowder often is part of the conversation.
On May 7, Crowder will be in the Klondike community talking about just that. She will be the keynote speaker at Friendship Baptist Church's Scholarship Fund Program, which begins at 11 a.m. Friendship is located at 1335 Vollintine Ave.
After the keynote, Crowder will be the focal point of a reception and book signing. Featured will be her book, "When Mama Speaks," which is subtitled "The Bible and Motherhood from a Womanist perspective."
The book is right up Crowder's alley. She is the assistant professor of Theological Field Education and New Testament and Director of the ACTS, Doctor of Ministry in Preaching Program at Chicago Theological Seminary.
Some may know Crowder from her regular blog posts for The Huffington Post. She also served on the editorial board for the Feasting on the Gospels series by Westminister John Knox Press.
"When Momma Speaks" is described as a new study that provides "an engaging womanist reading of mother characters in the Old and New Testaments."
Building upon a brief history of what is described as "womanist biblical interpretation," Crowder – according to the description – "shows how the stories of several biblical mothers – Hagar, Rizpah, Bathsheba, Mary, the Canaanite Woman and Zebedee's wife – can be powerful sources for critical reflection, identification and empowerment."
The historical understandings of motherhood in the African-American community also get exploration by Crowder, who then delves into how such understandings "help to inform president-day perspectives.'
The reception and book signing is set for 2 p.m.
(For more information, contact the church at 274-3201 or 274-5990.)