By Lee Eric Smith, [email protected]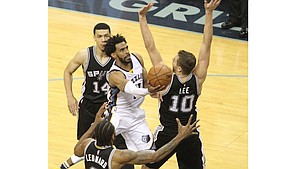 I remember one of my first videos covering the Grizzlies: it was a piece on the young point guard out of Ohio State, Mike Conley.
Having seen video of his Buckeye days and watching him do a dribbling drill on YouTube, I remember looking into the camera and saying: "Mike Conley can get into the lane whenever he wants, to create for himself or his teammates."
That was back in 2010, somewhere around the time when trading him for Ramon Sessions and a bag of popcorn still seemed like a good idea.
No, Mike Conley isn't a shooting star — he wasn't picked by a shoe company or the league to be the next "it" guy — not like say, Damien Lillard, whose game I love but isn't nearly as accomplished as Conley.
It's crazy when you think about it. Conley was the No. 4 pick in the 2007 draft. You expect a player drafted that high to blossom sooner. But it was bad timing.
Conley survived the Marc Iavaroni experiment at coach before getting drilled by Lionel Hollins. He was the one the team bet on instead of Kyle Lowry, who has had a great career.
Shortly afterwards, the team identity and style of play (rightfully) began to take shape around the "Smash Brothers," Marc Gasol and Zach Randolph. Conley was often the last option on offense, behind Rudy Gay and O.J. Mayo.
Conley's stardom would have to wait.
Then, what do you know? The Grizzlies started winning. They started winning regular season games. They started winning playoff games and series. And somewhere along the way, everybody except fans and NBA coaches could figure out that Mike Conley deserved to be an NBA All-Star. But I get it: It's hard to put Conley ahead of players like Kobe Bryant, Russell Westbrook, Chris Paul, Steph Curry, Klay Thompson, James Harden… yikes.
No wonder the world was buzzing when the Grizzlies signed Conley to an NBA record $153 million contract. How in the world do you give that kind of money to a guy who's never made an All-Star team, and isn't even the best player on his own franchise?
Well, as the saying goes: "You gone learn today!"
I have a lot of reasons for wanting the Memphis Grizzlies to keep winning, to somehow pull off another miraculous upset over the San Antonio Spurs. This time next week, I'll either be writing a preview of Grizz-Rockets, or I'll be writing about the end of the season.
But I've simply got to say, I am flat out enjoying Mike Conley's coming out party in these Playoffs. I have seen him do things that made me gasp — that wicked hesitation, crossover, drive-the-lane thing he does is SICK.
So let me repeat: Mike Conley can get into the lane whenver he wants. We've known it here in Memphis for some time.
It's been a lot of fun watching the rest of the world learn, though!
GRIND ON!