By Sheila Burke, Associated Press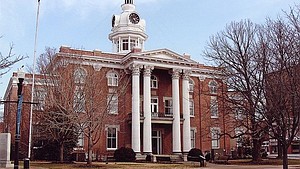 NASHVILLE — A federal judge has issued a preliminary injunction barring a Tennessee county from enforcing a policy that allows even young children accused of minor infractions to be locked up until a hearing.
The order from U.S. District Judge Waverly Crenshaw this week stems from a suit filed by the parents of elementary school students who were arrested after an off-campus bullying incident that had happened a month earlier. The arrests of the African-American kids between the age of 9 and 12 at Hobgood Elementary School in Murfreesboro last year — some hauled off in handcuffs — drew outrage. The suit has expanded to include other kids in the county.
The judge's ruling involved Rutherford County's use of a "filter system" that determines whether to lock up a juvenile for 72 hours, or longer if the kid gets arrested on a weekend, until a detention hearing before a juvenile court judge.
Tennessee state law sets out restrictive guidelines for detaining juveniles, generally favoring that only violent offenders and absconders be detained. In his ruling, Crenshaw said some kids might be required to be released under state law but "nevertheless be locked in a cell, unable to leave, solely because the intake officer believed it was in the child's best interest."
The judge noted that five of the children involved in the lawsuit should have been released to their parents under state law, but three of them wound up spending up to three nights in jail before their detention hearings. Three of them were Hobgood students. One was a 10-year-old girl arrested in 2014 on misdemeanor charges of assault, vandalism and stalking who was held for three days, the lawsuit states. The other child at the center of the lawsuit, court documents say, was a 14-year-old high school student who was held for several days after being arrested on an assault charge when a video surfaced that allegedly showed him in a fight.
"Plaintiffs argue that children in Rutherford County are suffering irreparable harm every day through Rutherford County's illegal detention of them in a secure facility," Crenshaw wrote. "The court agrees." The juveniles, he said, are being deprived of their due process rights and suffering irreparable harm.
The families of the children had argued that the Rutherford County Sheriff's Department's policy of always arresting juveniles on any summons was unconstitutional. The suit claims that two of the five children's rights were violated with the policy, but the judge sided with the county and refused to issue a preliminary injunction against it, saying that the arrests were based on a judicial commissioner's findings.
"Rutherford County respects the court and will comply with the preliminary injunction as entered," Nicholas Christiansen, an attorney for the county, said in an email. "Rutherford County also respects the rights of all of its citizens, including its juvenile citizens, and will continue to do so as it works through this matter."
Monday's ruling puts the county's juvenile justice system in the spotlight once again. In March, another federal judge issued a preliminary injunction barring Rutherford County from putting juveniles in solitary confinement as punishment. That ruling came after a lawsuit alleged that a 15-year-old boy was held in isolation in a concrete cell for 23 hours a day.
One of the attorneys working on both federal lawsuits said the situation in Rutherford County has been going on for a long time.
"The Hobgood situation was the tip of the iceberg," said attorney Wesley B. Clark, referring to the school where the elementary kids were arrested. "This has been going on for many, many years. We believe there have been thousands of children who have been subject to wrongful arrest and detention."