By Terry Davis, Special to The New Tri-State Defender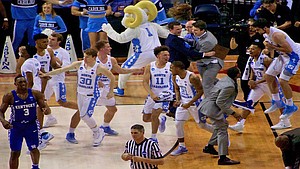 Kentucky 176, North Carolina 175.
Those are the scoring totals of the two games the Wildcats and Tar Heels played during the 2016-17 NCAA college basketball season. And while each won a game, North Carolina gutted out the win both teams wanted most – Sunday's Elite 8 slugfest in Memphis.
North Carolina 75, Kentucky 73.
In one of the most marquee matchup games in this season's NCAA tournament, North Carolina was a Luke-Maye-shot better than Kentucky, winning the South Regionals final at the FedExForum and seriously earning entry into the Final Four at the University of Phoenix Stadium in Glendale, Ariz. April 1-3. They will play Oregon; South Carolina will take on Gonzaga.
"A little bit of both," said North Carolina Coach Roy Williams, responding to whether Maye's winning jumper with 0.3 seconds left was a designed play or the result of him allowing his players to go with the flow.
"If it's six seconds or more, we try to push. If it's five seconds or less, we'll call a time-out. I had a time-out left, but I like to try to score in the open court, and we practice that way every day," Williams said.
"Believe it or not, we have practices where we play with a 15-second shot clock because I want them to push the ball hard enough to get a great shot in 15 seconds, not just throw it up. We've won a few games like that. I've been around a long time, and we do try to push, and Theo (Pinson) made a heck of a play. I was really glad the ball went to him because I didn't know how hard (an injury-hampered) Joel (Berry II) would be able to push."
The Wildcats' first half was marked by miss opportunities. They only made 5 of 11 free throws and went into the break trailing North Carolina 38-33. The referees left the court to a chorus of first-half boos, signaling Kentucky fans' displeasure to several calls, including two that wiped out baskets for the Wildcats.
"There was a lot of stuff that went on, and our kids fought through it," Kentucky Head Coach John Calipari said. "I told them at halftime, it is what it is. And you've got to beat who's out there, and let's go, and don't worry about it."
Kentucky's three freshmen sensations – Edrice Adebayo, De'Aaron Fox and Malik Monk – were limited by first-half foul trouble, scoring a combined 12 points. That loomed large with North Carolina stars Berry II and Justin Jackson combining for 20 points in the opening stretch.
With Jackson and Monk guarding each other in the first half, the high-profile matchup yielded some spirited – but friendly – verbal exchanges.
"I knew he's a great player, so I tried to slow him down and limit his touches as much (as possible)," Jackson said.
"I'm sure when the coaches go back and look at film, there's going to be a lot of bad defenses of no helping. "(O)nce you let him get it going a little bit, it's hard to stop him."
Kentucky came out on fire to start the second half. They scored the first five points and tied the game at 38 each with 17:17 left in the game. The Tar Heels responded with at 5-0 run of their own to take a 44-39 lead.
The game went back in forth with both teams making critical shots throughout the second half. The last five minutes may have been the best five minutes of any game this season. At the 5:10 marker, Dominique Hawkins gave the Wildcats their largest lead (64-59) and Kentucky looked to be in control.
Pinson hit a jumper to pull the Tar Heels within 3. Jackson was fouled on a made jumpshot, hit the free throw and narrowed the gap to a single point (64-63). With 3:22 left, Pinson added two free throws and North Carolina was back on top 65-64.
Berry II gave the Tar Heels a five-point lead with 1:56 left and Pinson hit two more free throws to push the North Carolina advantage to 71-64 with 54 ticks remaining on the clock.
Kentucky roared back. Fox hit a three-pointer with 49 seconds left and Monk followed with another trey, to make it 71-70 with 39 seconds to go. Jackson hit a jumper to give the Tar Heels a three-point cushion (73-70) with 34 seconds left.
Monk answered with a closely-guarded three-pointer and knotted the sprint to the finish at 73. Nine seconds remained and Williams decided not to call a time out, urging the Tar Heels to push the ball quickly up court.
Then tournament's Most Valuable Player, Maye, who finished with 17 points and 3 rebounds, hit the 15-footer that sent North Carolina to Arizona and stamped him in NCAA and North Carolina history.
"They made a big three. Monk hit it over my hand, and then Theo just drove down court and kind of was penetrating towards the basket and kind of picked my man a little bit," Maye said.
"And I just kind of stepped back and he gave me the ball, and I just shot it, and luckily it went in. It was a great feeling. I thank my teammates so much and my coach for putting me in that situation."
The Wildcats had one last opportunity. On the inbound play, Kentucky's Derek Willis tried to throw the pass full court to the Wildcats' baskets, but noone could secure his heave, with the result being a turnover.
The Tar Heels inbounded the basketball and the Memphis-hosted Southern Regionals final was done.