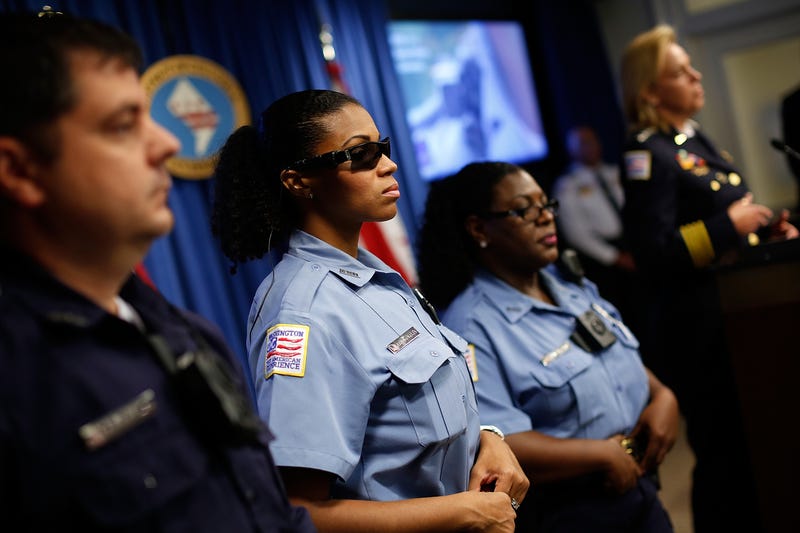 Well, the results are in, and they don't look promising for police bodycams being the end all be all in stopping police abuse and brutality. But I think we knew this. As many anti-brutality activists have maintained, it's not about tactics (though they may help) but dismantling the system and culture.
A new study by the Lab @ DC found that there was not a "statistically significant effect of the body-worn cameras," according to a researcher who took part in the report. Meaning, police abuse is about the same as it has always been, even with the body cameras being worn by officers.
The study, according to NPR, followed the police force in Washington, D.C., where 2,600 of its officers wear body cameras.
The study ran from June 2015 to December 2016 and worked with local police officials to ensure that cameras were assigned randomly. But alas, there were still lots of citizen complaints against officers.
"I think we're surprised by the result," D.C. Chief of Police Peter Newsham said. "I think a lot of people were suggesting that the body-worn cameras would change behavior. There was no indication that the cameras changed behavior at all."
He then hedged and gave his officers the benefit of the doubt, saying that perhaps there was no statistical change because his officers "were doing the right thing in the first place."
Harlan Yu, a representative for Upturn, an organization that studies how technology affects civil rights and social justice issues, questioned the use of cameras at all, pointing out that some departments "allow officers to review footage before writing their initial reports of violent incidents."
Yu also noted to NPR that a lot of recent footage showing police violence has come from bystander video, not officer body cameras.
The authors of the report say it would be incorrect to draw a direct correlation between the effects of all body cameras and all police forces.
But if D.C. is supposed to be a very well trained police force with a majority number of police of color, what does that say about the worst of these?
Read more at NPR.