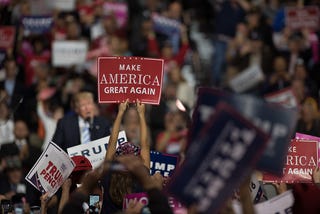 Earlier this week, a New Jersey High School teacher was suspended after the school yearbook was edited to remove Trump logos and slogans from the clothing of two high school students. Now the school has announced plans to reprint the year book to correct the intentional changes.
Wall Township School Superintendent Cheryl Dyer sent a letter to the parents of the school announcing the new yearbook should arrive within two weeks, NJ.com reports. 
"I cannot allow the intentional change that was not based on dress code to be ignored," Dyer wrote in a statement. "I am the Chief School Administrator in this district, and I take responsibility for the actions of those who are employed here. Therefore, I have determined that a re-issuance of the yearbook is necessary.
The district suspended the school's yearbook advisor Susan Parsons, pending an investigation into why the yearbook photos were changed. Dyer concluded that one student's photo was intentionally censored, while the other was simply re-sized to match all other photos in the yearbook. The Trump logo was no longer visible because of this resizing.
As for the freshman student whose Trump quote was removed from the yearbook, Dyer noted that she has not yet determined why it did not appear in the yearbook.
"I do not know if it was an oversight, carelessness, or intentional," she wrote in the letter.
The superintendent mentioned there were several other apolitical mistakes in the yearbook which included editing of photos from a student trip to Bermuda to add or extend clothing on students, as NJ.com notes. Dyer also explained that the original Bermuda photos cannot be reprinted.
Dyer wrote that she believed it would be difficult to create a 248-page yearbook that is completely error free, but added, "I also think that reasonable people recognize that, but when the error pertains to them, they are rightfully upset."
As NJ.com notes, Trump supporters dominate Wall, where the current president carried more than 60 percent of the vote, creating excitement among some students.
Grant Berardo is the junior at Wall Township High School whose "Trump: Make America Great Again," slogan was edited from his shirt in his yearbook book picture. His family noted that he kept a collection of five Trump t-shirts, adding that he wanted to make a "historic statement," by wearing one of his shirts on picture day.
Read more about this at NJ.