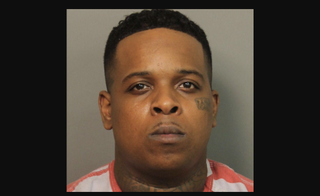 A Memphis-based rapper who was headlining the Little Rock, Ark., show where 28 people were injured, was arrested in connection with the melee on Sunday in Alabama.
Al.com reports that 25-year-old Ricky Hampton, better known as Finese 2Tymes, was arrested by the U.S. Marshals, the ATF and the FBI at the Side Effects Club in Birmingham, Ala.
According to the outlet, Hampton was sought on aggravated assault charges stemming from the Saturday morning shoot out a the Power Ultra Lounge, where 25 people suffered gunshot wounds and three others were hurt by stampedes of people trying to escape an 11-second gunfight that erupted inside of the club.
Chief Deputy U.S. Marshal Cliff LaBarge confirmed that Hampton and 25-year-old Kentrell Gwynn were both arrested at about 1:15 a.m. as they were heading back into the Birmingham club; investigators recovered two handguns and an AK-47 from the Hampton's silver Mercedes.
Hampton's poster for his appearance at Ultra had the rapper holding a gun, facing the camera, which the Little Rock Police Chief said was "concerning."
Hampton will be held without bond pending extradition to Arkansas.
In related news, the AP reports that Power Ultra was evicted, and must vacate the premises within three days "due to [its] failure to maintain the premises in a safe condition."
Before the club was shut down, the state had suspended the lounge's liquor license.
All of the victims are expected to survive the shootings but one can assume there will be more arrests in the coming days.
Read more at Al.com and the AP.