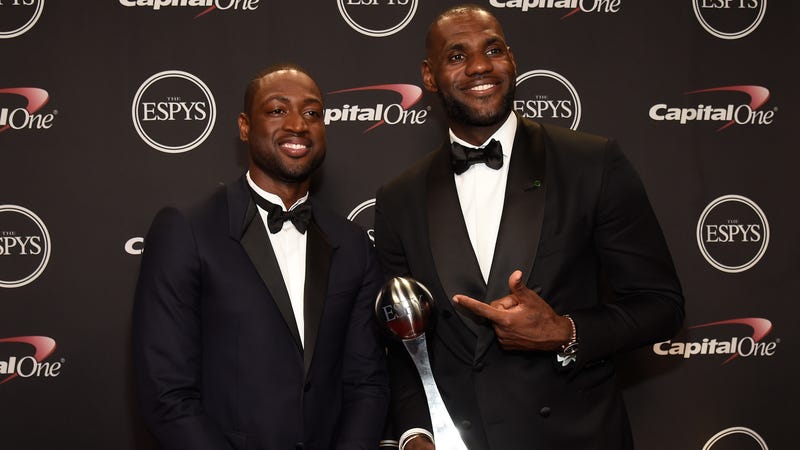 Dwyane Wade and LeBron James created basketball magic together for the four seasons they played together on the Miami Heat, winning two championships along the way. According to a recent report, the two are poised to make magic together again, this time in Cleveland.
Wade agreed to a contract buyout with the Chicago Bulls on Sunday, and according to ESPN, once the 12-time NBA All-Star guard clears waivers on Wednesday, he will sign a one-year, $2.3 million veterans-minimum deal and be an unrestricted free agent with the Cavaliers.
The three-time NBA champion and 2006 NBA Finals MVP will round out a Cavs roster that includes James, Kevin Love, J.R. Smith and Tristan Thompson. ESPN reports that All-Star point guard Isaiah Thomas will be out with an injury until at least January.
In order to make room for Wade, the team will cut a nonguaranteed training-camp invitee from their 20-man training-camp roster and will have to find a way to make space for Wade on the 15-man regular-season roster.
Cavaliers coach Tyronn Lue told ESPN that although it will be a challenge with all the new players added to the team's roster in the offseason, he and the players are up for it.
"Anytime you get new pieces and new players, it's always challenging, but I'm up for the challenge, and so are the players," Lue said. "We will figure it out. It will be a good year for us."
Thompson told ESPN that he believes Wade will be a good fit with the team.
"He's pretty familiar with most of the guys on our team, whether playing against or playing with," Thompson said. "I think he's going to jell pretty well. He's a veteran. He's always been a good locker-room guy. We've never heard anything bad."
Does this mean the Cavs will have another shot at beating the Warriors for the NBA championship? I guess we will have to wait and see.
It's almost time for basketball again, y'all! Aren't you excited?
Read more at ESPN.