By Brianna Alexis Smith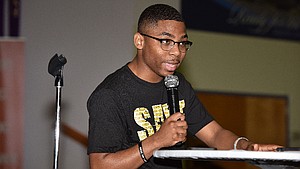 Fostering communication between African Americans and Hispanics in Shelby County Schools seems to be an issue that Kim Vasquez, a senior at Kirby High School, is very passionate about.
In middle school, Vasquez said she was frequently bullied by an African American student but didn't understand why. Those encounters left such a mark that Kim wanted to help improve the relationship between her Latino and African American peers.
"I am tired of seeing groups of people at the various schools being divided by a gap of diversity," said Vasquez, one presenter at the SAVE conference, hosted by Shelby County Schools' Student Congress. "I wanted all the students who attended the conference to hear that it's OK to be friends with other people that are not their own race. There shouldn't be a divide or a sense of fear because a certain person doesn't have the same skin color or speak the same language."
The Annual SAVE Conference (Students Against Violence Everywhere) was held on April 7 at First Baptist Broad, with more than 600 students in attendance. The SAVE Conference addressed the invisible walls in the schools that can create an environment of aggression and frustration.
Designed by students, the SAVE Conference is intended to spread a message of nonviolence, with a focus on safe schools, conflict management, college prep and service projects. This year, a key focus was to bring high-achieving students together with so-called "at-risk" students, said Janice Tolbert, SCS manager of student leadership.
"We pushed the Student Congress to include students some would consider at-risk," Tolbert said. "I hate that term because what are they at risk of? Not succeeding?
"I like to call them students caught in the gap," Tolbert continued. "They're at this crossroad of life where their decisions and their choices could greatly impact their lives. So, we had valedictorians and Student Council Presidents presenting and sharing with students from alternative schools."
This year, organizers exceeded their attendance goal of 600 students, Tolbert said.
"That's pretty amazing from just 75 students five years ago," Tolbert said. "We also got some awesome community sponsorships this year from Metro PCS and Pyro's Pizza, which allowed us to give the participants some amazing giveaways."
Student Congress provides a platform for students to positively and effectively address their educational concerns, to participate fairly in the decision- making processes within the school system, and to ensure equal representation, Tolbert said. And participating students agree.
"Being a part of this wonderful organization is not about a title, you have to be hardworking and committed to producing a marvelous SAVE Conference," said Zariah Nolan, a senior at Whitehaven High School. "It's a lot of fun, you learn a plethora of things, and it is a life changing experience."
Tolbert said the peer-to-peer interactions that Student Congress fosters helps students develop true leadership skills.
"Being a part of Student Congress gives the students the opportunity to test the true measure of leadership in how well they will leave those who are left behind," she said. "Often their efforts won't necessarily help other seniors, but they will be beneficial to the students in lower grades."
Alana Farris, a junior at White Station High School, agrees.
"Being a part of Student Congress has given me many levels of responsibility," Farris said. "It has really allowed me to be well-rounded when thinking about different issues and solutions to everyday societal struggles."
"Student leadership is being able to stand apart from the crowd, yet being united with your peers," Nolan added. "I became a student leader by asking questions and taking advantage of opportunities as they became available to me."
"Being a student leader doesn't happen all in one night," added Keondre Dixon, a senior at Kirby High School. "You have to push and strive for it! Everything isn't going to always fall in your favor, but that doesn't mean give up, push for everything you want to see a change at."