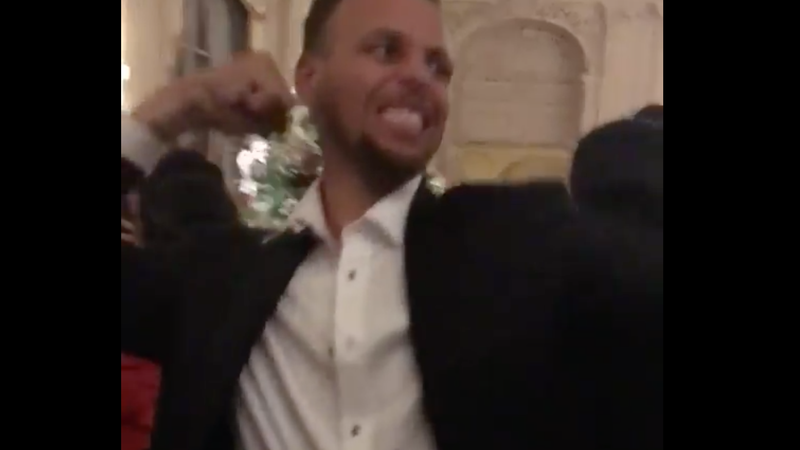 While he is known for raining three-pointers from long distances and handling the rock with as much ease and agility as Donald Trump manipulates throngs of Appalachian Caucasian rallygoers, until this week, very few people knew that Stephen Curry is highly regarded as one of the pettiest motherfuckers on the planet. In two separate incidents this week, he has bolstered his claim to have his face carved into the Mount Rushmore as Petty Roosevelt, raising his petty points to a level that you can't help but love.
Everyone knows all the great NBA players are petty. Russell Westbrook is still steaming over the fact that Kevin Durant left Oklahoma City and joined the rival Warriors. In the pettiest Hall of Fame induction speech ever, Michael Jordan revealed he still holds a grudge every player who ever looked at him funny. Future Hall-of-famer Kevin Garnett still holds the league's single-game record for pettiness, when—on January 7, 2013—he allegedly whispered in Carmelo Anthony's ear: "Your wife tastes like Honey Nut Cheerios."
And then there is Steph Curry.
On the Petty Shabazz "By any memes necessary" scale of 1-10, Steph is a 317. He doesn't shit slide. If you tripped him in a hallway in kindergarten, Steph would want until you were in the 12th grade, and as you were walking down the aisle to receive your diploma at your high school graduation, he'd leg sweep you in from of the entire school.
He's just that petty.
A year ago, after snatching the title from Golden State's grasp, Lebron's menacing scowl following a monster dunk on Steph during the NBA Finals was the meme of the summer. Although he handled it gracefully, I'm sure Steph was at home all during the off-season doing petty push-ups and clap-back barbell extensions getting ready to pay Lebron and the Cavs back.
So after winning the 2107 NBA title, Steph just couldn't let it be. The win wasn't enough. He remembered the meme. But like a Kardashian with Taylor Swift text, instead of pouncing, he waited. A few days after losing the championship, Lebron posted this workout video:
Steph could've gone in right there. He could've asked Lebron "Why you so mad? Oh that's right… my bad." He could've said "to be fair, the front 1/3rd of your hairline was kinda bald already." NBA players love Twitter and Instagram beefs, but not Curry. Instead, he took this as an opportunity to submit his thesis for his PhD in pettynomics.
So he waited. He waited until he was surrounded by NBA players at former teammate Harrison Barnes' wedding on July 30th. Curry waited until Kyrie Irving, Bron-Brons teammate who is demanding a trade, was gathered around, and then he recreated Lebron's workout video in the pettiest Soul Train line dance ever recorded:
But that wouldn't even prove to be Curry's pettiest move this week.
After attending the wedding, Steph Curry packed his bags and left to play in his first professional golf tournament—the Ellie Mae Classic. (By the way, as soon as I finish this article, I will be submitting the previous sentence to the Pulitzer Prize committee for consideration in the category of "Whitest Sentences Ever Written." I think there's an award for that.)
Anyway, ESPN's SportsCenter anchor and perennial all-star in the Cool-Ass White Guys league, Scott Van Pelt advised viewers that Vegas oddsmakers were betting that Curry couldn't shoot a round under 76 in the tournament. As soon as he said it, little-known PGA tour professional Steve Wheatcroft said there was "chance in hell" Steph could do it. After all, Wheatcroft was a pro, and Curry was just some basketball dude. So Wheatcroft tweeted this:
A regular person like me or you would have clapped back, immediately, but Steph Curry, a Jedi of pettiness, kept his light saber sheathed. What did he do instead?
He just went out and shot a 74 on Thursday, shaming everyone who doubted him and forcing Wheatcroft to eat crow. Then, I would imagine he went home, made himself a peanut butter and petty sandwich, sat down at the kitchen table and tweeted this clapback:
And then, just before Curry went to bed to dream sweet petty-ass dreams, he probably heard another golfer take a shot at him, doubting his abilities. Another PGA pro with too many D's in his too many names promised he'd eat his golf bag if Curry broke 80 again. It seemed like a safe bet. Curry was not a professional golfer, and some of the pros in the tournament couldn't even score that low two days in a row.
But other golfers aren't Stephen Curry. Curry went out the second day of the tournament and shot another 74, beating three pros in the field and tying another.
There are some who will say that this proves how gifted an athlete this particular individual is. Some will say that this shows that whatever Curry puts his mind to, he can achieve it. Others may think this shows Stephen Curry's will to face and conquer any challenge.
Nah. He's just petty as fuck.