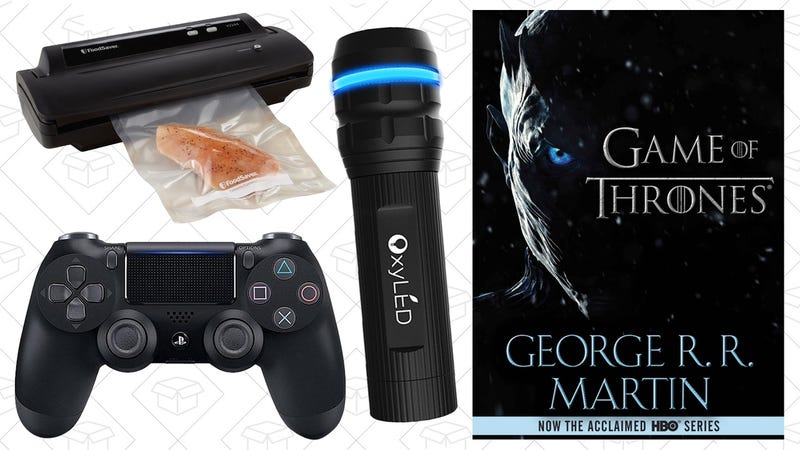 $30 true wireless earbuds, a discounted FoodSaver, and an impressive Kindle ebook sale lead off Sunday's best deals from around the web.
Bookmark Kinja Deals and follow us on Twitter to never miss a deal.
Top Tech Deals
Inexpensive truly wireless headphones are finally starting to become a thing, and VAVA's new MOOV 20s are just $30 today on Amazon, one of the best deals we've seen on any true wireless earbuds. Unlike AirPods, they'll only last about 3 hours on a charge, and they don't come with a wireless recharging case, but hey, not having a wire around your neck is worth something.
---
There's not a whole lot to say here: This phone stand has nearly 4,000 reviews, looks great, and is only $6 today with code 6VGBXP2D. Why wouldn't you put one on your desk?
---
With these reader-favorite Anker deals, you'll be able to keep your mobile devices charged up on the go, whether you have a power outlet handy or not.
---
There aren't a ton of Bluetooth headphones that also include noise cancelling, and at $179, Sony's h.Ear over-ears offer great sound quality at a fair price.
These headphones have all the features you'd expect in a good pair of Bluetooth headphones these days: NFC pairing, 20+ hour battery life, and even Hi-Res audio compatibility. But the secret sauce here is noise cancellation, powered by dual microphones and a chip that selects the best cancelation mode based on your surroundings. $179's still a pretty penny, but it's one of the best prices we've ever seen on these.
---
With its 24 hour battery life, surprisingly good bass, and crystal clear sound quality, the Anker SoundCore has long been our readers' favorite affordable Bluetooth speaker. But its run may be at an end, because Anker recently upgraded it with IPX5 water resistance, and you can get the new model for $9 off today.
The SoundCore 2 still includes dual drivers and that amazing 24 hour battery; the only real differences are a slightly tweaked design and the aforementioned water resistance. That means you can take it to the pool, the beach, or even the shower without fear. For a limited time, get it for $9 off with promo code PRIMEAN8.
---
Amazon's new Dash Wand has Alexa built right in, and lets you order groceries and other household goods just by scanning a barcode or using your voice. The best part though? It's basically free.
The Dash Wand will set you back $20 upfront (not bad considering it's a full-featured Alexa voice assistant), but once you register it, you'll get a $20 credit in your Amazon account automatically. It's basically the same value proposition behind Amazon's $5 dash buttons, but the Wand seems infinitely more useful and flexible.
Plus, if you live in a city with Amazon Prime Fresh, buying the wand will get you a 90 day trial membership, so you can fully immerse yourself in Amazon's lazy vision of the future. We posted this when it launched last month, but it's been sold out or heavily backordered ever since, until today.
Top Home Deals
We've all had to throw away leftovers or cuts of meat and cheese that spent a little too much time in the fridge or freezer, but vacuum sealing your foods can keep them safe from freezer burn pretty much indefinitely, and dramatically extend their shelf life everywhere else.
It sounds like an expensive proposition, but today only, Amazon's selling the well-reviewed FoodSaver Starter Kit for just $56, complete with everything you need to get started. Of course you can use this to store meats in the freezer for a long time, but it can also keep cheese from molding, lettuce from wilting, or cookies from going stale, just to name a few examples. Think about how much food you throw away, and you'll get a sense of just how quickly this purchase could pay for itself.
---
Miniature LED flashlights are so cheap and ubiquitous now, there's no excuse not to have one tucked away in every glove box and every room of your house. Get four zoomable lights from OxyLED for just $14 today.
Just note that you'll need an 18650 battery, or three AAAs to run them.
---
What's that noise your car's making? It's all the crap rolling around in your trunk. Luckily, this $12 pop-up organizer will keep everything in its place.
---
We've seen these solar-powered spotlights on sale from a number of manufacturers over the last few years, but OxyLED's take on the category includes not one, but two motion sensors, giving it a whopping 210 degrees of motion detection. That means it'll turn itself on even if you're approaching it from behind, giving you a ton of new mounting options.
---
Quick, what do you think this is an image of?
…
The correct answer is tea balls. 6 of them for $7. Use promo code PBJBPK98.
---
If you haven't deep-cleaned your carpet lately, you're in for a disturbing eye-opening experience. Choose from two discounted carpet cleaners from Bissell today, a handheld model for $70, and one you can push around like a vacuum for $9 more. The former can be used on furniture and car seats, while the latter will obviously put less stress on your knees.
---
Not only is the new WeMo Mini Smart Plug smaller than the top-selling original so as to only cover one outlet, it's also cheaper. You'll almost always see it available for $35, but today on Amazon, it's knocked down to $30.
Despite its diminutive size, this includes all the same features as the full-sized WeMo Switch, including IFTTT support, Alexa compatibility, and an Away mode that will randomize your lights to deter ne'er-do-wells.
---
Steaming your clothes might not get them as crisp as ironing, but it does a decent enough job in a fraction of the time, and for $13, why not? This model from TaoTronics is even small enough to toss into a suitcase.
---
No, this isn't a trophy for best shower technique, it's actually a stainless steel bar that uses magical powers "molecules in the steel [that] bind with the sulfur molecules on your hands" to remove strong scents like garlic and fish. Just rub it around in your hands like a regular bar of soap.
---
If you use a Keurig coffee maker (no judging), Amazon's latest sample box is a no-brainer. $8 gets you seven or more K-cup samples from multiple providers (including some "samples" with three cups each), plus an $8 credit to spend on your next eligible K-cup purchase from Amazon. Assuming you were going to buy coffee from Amazon anyway, that's like getting the samples for free.
---
For a limited time, Amazon will sell you three pouches of Tide HE-compatible laundry detergent (totaling 144 ounces or 93 loads) for just $14. These pouches are designed basically as refills for plastic Tide bottles, but as long as that doesn't bother you, this is a fantastic price-per-ounce for any detergent, let alone name brand. Just be sure to clip the $4.50 coupon on the page and use Amazon Subscribe & Save.
Top Lifestyle Deals
Uniqlo Airism is the best stuff you can put on your body when it's hot out, and it's all discounted today for men and women, from underwear to tanks to tees.
---
In case you missed it during the Prime Day chaos, ExOfficio's insanely popular sweat-wicking men's underwear is still on sale for $12-$15, in multiple sizes and colors. It's extremely rare for Amazon to have this many options in stock, let alone at a discount, so don't miss your chance to stock up.
---
Whether you wear TOMS for the ease of never having to tie your shoes or just dig the style, this is one deal you should take advantage of. They're having their Summer Sale, with an extra 25% off select styles with promo code SUMMER25. Now you have a real reason to throw out your old, gross ones.
---
You can get $25 sunglasses that are polarized or $25 sunglasses with metal frames, but rarely both, and never in this many different styles.
If you missed out on our exclusive code last week, Prime Day brings 20% off a ton of styles from Privé Revaux. Just add them to your cart to see the discount.
Privé Revaux makes polarized, stylish shades for less than half of what you'd expect, and right now, our readers can take advantage of their best prices ever. Yes, the models are celebrities looking super awkward who probably had nothing better to do, but the sunglasses are actually pretty great looking.
Top Media Deals
With only 13 titles on sale, this Sunday's Kindle ebook sale is far from the biggest Amazon's ever run, but it does includes some bona fide hits, including A Game of Thrones (timely!) and The Martian.
---
The latest Humble Bundle is an ode to legendary comic creators Jack Kirby and Will Eisner, with over two dozen titles available digitally. As always, you can pay whatever you want, but certain titles will be locked behind a couple of price tiers.
---
At $8 per month, Amazon Music Unlimited was already more affordable than Spotify Premium or Apple Music, but Amazon's sweetening the pot for Prime members with a limited time $10 credit when you sign up for a new account and use promo code SUMMERMUSIC.
You'll still get your one month free trial when you start the service, but the first $10 you spend on the service will be automatically refunded thereafter. That means you'd over two months of free music for an individual account, or a deeply discounted second month of the family plan. Just note that this promotion is only for new Amazon Music Unlimited subscribers.
Top Gaming Deals
When Sony rolled out the new PS4 Slim and PS4 Pro, they also quietly tweaked the DualShock 4 controller, and here's a chance to get the new model for $38, with no sales tax for most buyers.
This is basically the same gamepad you know and love, but with a futuristic looking light bar at the top of the touchpad, and the ability to communicate over USB when plugged into your console for lag-free input.
---
In addition to the aforementioned comics bundle, Humble's also running a bundle with 10 different Capcom games, and you can get them all for as little as $12.
---
Pandemic is one of the best cooperative board games you can buy, and $20 is the one of the best prices Amazon's ever listed. I suggest spending the money you saved on pizza to share with your squad.
Tech
Home
Lifestyle
Media
Gaming