By Jonathan Mattise and Erik Schelzig, The Associated Press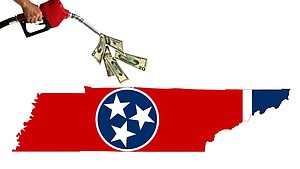 NASHVILLE – Tennessee lawmakers have adjourned for the year after a session that featured heavy infighting among the Republican majority about Gov. Bill Haslam's gas tax hike and other budget issues.
The House and Senate concluded the first session of the two-year 110th General Assembly on Wednesday afternoon after disposing of a handful of bills. The heavy lifting – and heated exchanges – all came earlier in the session.
"There were a few bumps in the road. There always will be," said Senate Speaker Randy McNally, an Oak Ridge Republican in his first year in charge of the upper chamber. "We get over them."
Haslam's road funding plan dubbed the Improve Act raises the tax on gasoline by 6 cents over the next three years. The plan also cuts taxes on groceries, manufacturers and income from stocks and bonds.
House Republicans were deeply divided over the measure, but the bill ended up clearing the chamber with Democratic support. House Speaker Beth Harwell of Nashville was among the chamber's Republican leaders who tried to find alternative methods to boost road funding, but she ultimately voted in favor of the final version of the bill that included the fuel tax increases.
"To self-govern is a very messy situation," said House Majority Leader Glen Casada, R-Franklin. "So, if we all get along, something's not right."
The Senate managed to pass its version of the bill without the public disagreements put on display in the House.
"We just keep our debates a little more civilized," Senate Majority Leader Mark Norris, R-Collierville, joked with reporters after a session-ending press conference.
Norris played a key role in ensuring tax cuts in the Improve Act outweighed the hikes, which helped swing a lot of support to the bill from Republicans wary of supporting any kind of tax increase.
Norris and Harwell are among several Republicans considering bids to succeed the term-limited governor next year.
Other high-profile legislation passed this year dealt with abortion, gun rights and extending the state's free community college program to adults.
The tuition program is an extension of Haslam's Tennessee Promise plan that makes all high school graduates eligible for free tuition at the state's community colleges and technical schools.
The initiative is part of Haslam's "Drive to 55" campaign to boost the percentage of Tennesseans with higher education degrees or certificates from the current 38 percent to 55 percent by 2025.
"We won't get there if all we're doing is getting every high school student to register for college, even if all of these graduate," Haslam said. "We have to get some of the adults out there."
Haslam gave no indication that he would veto any legislation this year.
Abortion rights advocates are calling for him to nix a bill that would ban abortions after 20 weeks if a doctor determines the fetus is viable.
Gun control groups urge him to veto a proposal that gives cities and counties a choice: use metal detectors, hire security guards and check bags in many public buildings, parks and buses; or let handgun permit owners bring in their guns.