By Breanna Edwards, The Root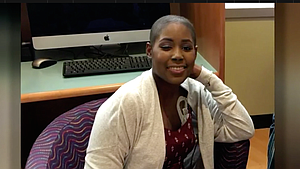 Ebony Banks, a Texas teenager who was fighting stage 4 cancer, died Sunday just four days after being able to meet with her idol, superstar Beyoncé Knowles.
Ebony was undergoing treatment at MD Anderson Cancer Center in Houston when she died, KHOU reports. The Alief Independent School District of Houston released the news of her death Sunday, and a candlelight vigil was held in the teen's honor at LeRoy Crump Stadium, which is owned by the school district. Video of the vigil showed students singing Beyoncé songs and waving candles.
Ebony was a Beyoncé stan and always dreamed of meeting the star. So her classmates at Alief Hastings High School took it upon themselves to organize through social media—which really can be amazing sometimes—and started the hashtag #EbobMeetsBeyonce, which went viral.
Beyoncé's attention was drawn to the hashtag, and last Wednesday, the singer called Ebony via FaceTime, and the two were able to chat. In a video of the interaction, Ebony can be heard saying "I love you, Beyoncé," and Beyoncé responds, "I love you."