'Knowledge is power' is an old adage, but for the nonprofit Our Grass Our Roots, it's a core philosophy for resident-led revitalization in North Memphis.
"We're not a housing community development. We don't buy land. We don't transform homes. We're not doing giveaways. We're doing informative practices," said Michalyn Easter-Thomas, who is from North Memphis and founded the group.
The group shares valuable information about community development with North Memphis residents and brings city officials into the community where residents can learn, teach, and ensure greater accountability. They also host workshops on social justice, land development, financial health, and the popular "Being Black in College."
"Everything is about asset-based community development—using what the people already have [to] build and knowing how to bargain for whatever else you need," said Easter-Thomas.
Our Grass Our Roots table at the Memphis Black Expo. (Our Grass Our Roots)After decades of disinvestment and race-based housing policies like urban renewal and redlining, the area's assets have been severely depleted. But it still has small businesses, community centers, libraries, schools, and passionate people who want to see their neighborhoods revived and thriving.
North Memphis stretches roughly seven miles east from the Mississippi River. OGOR focuses on the areas along Jackson, Firestone, and Chelsea avenues from Manassas Street to North Watkins Street. It includes the New Chicago, Smokey City, and Klondike neighborhoods.
OGOR collaborates with churches and other community-based organizations to disseminate information and share resources and capacities. Some of their partners include the Douglass Bungalow-Crump Development Corporation, the Memphis chapter of Black Lives Matter, and the North Branch Library.
"We judge our impact by how many partnerships we have [and] how often are we spreading this information across different neighborhoods," said Easter-Thomas. "We're judging it by the people that we've given information to and how we sustain that partnership."
Easter-Thomas estimates around 200 residents participated in at least one OGOR initiative in the last year alone.
"We just want North Memphis to be stronger in its voice," she said.
Fighting to Stay
OGOR was founded in 2014. Easter-Thomas said the year prior, many North Memphis residents expressed fear that the City of Memphis' development plans and processes would lead to gentrification in the area.
"[OGOR] was spurred from a group of interested and unrestful citizens that were wondering about city plans that would presumably increase the gentrification in the area," said Easter-Thomas.
Gentrification brings the necessities and amenities current residents and business owners want alongside significantly higher costs of living that pushes them out. Current residents need opportunities for quality employment, education, and affordable home and business ownership to resist displacement.
"We wanted to form an organization that promoted information and knowledge [to] resist gentrification in the North Memphis area," said Easter-Thomas.
Learning the Game
Ayanna Hampton facilitates OGOR's voter education project.
She said that for years, residents' distrust of local politicians was a major barrier to grassroots growth. In OGOR's first years, residents were resistant to meeting and working with city leaders.
"A lot of people we talked to would say, 'We don't do politics,'" said Hampton.
OGOR was persistent in sharing information and bring officials into the neighborhood to meet residents where they were most comfortable.
Hampton said the voter education project evolved to help reduce distrust and encourage meaningful relationships between residents and government. They began talking to community members about what elected officials do, how they do it, and who to call if you have a problem.
"I heard people tell us, 'You're the first person to ever come to my neighborhood to try to inform me or let me know what's happening,'" said Hampton. "The major impact that I have seen is the amount of people who feel like they can be involved in the process."
Ironically, Easter-Thomas is now herself a local elected officially. She was recently elected to the Memphis City Council representing District 7, which includes North Memphis.
"The only reason I went for the seat is because of what was going on in the neighborhood," she said.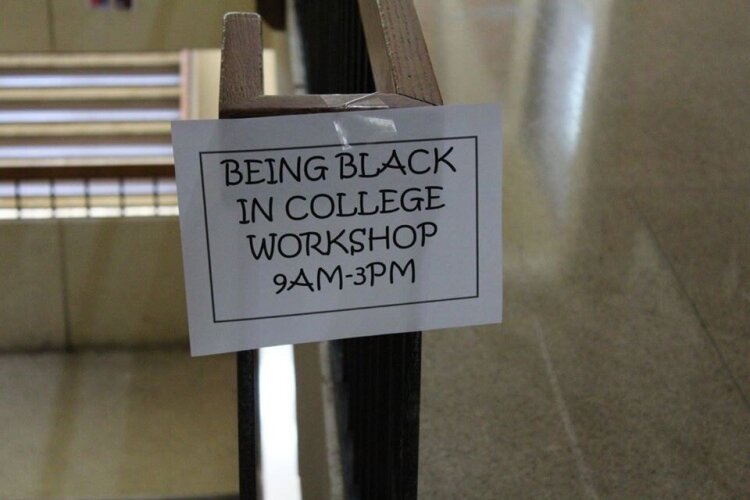 Doing the Work
One of OGOR's most popular programs is "Being Black In College," an annual college preparation course for high school juniors and seniors.
"It's a day-long workshop," said Easter-Thomas. "It focuses on [instilling] information that you'd probably have to learn the hard way if you're black in college, especially if you're first generation."
The event is hosted in partnership with Chainless Minds Change Lives and the LeMoyne Owen Chapter of the NAACP.
"They bring in people who have recently graduated to give them advice on being black in school," Hampton said. "They talk about academics and balancing your personal life and academics while you're in school."
Students also learn about maintaining financial health while in school and can get help filling out their Free Application for Federal Student Aid or FAFSA.
Adult workshops are also part of OGOR's work. Some of the earliest focused on social justice, but they've since expanded the topics based on known needs and resident requests.
"We've done informative workshops that connect people with city information, such as our land development workshop and our financial consulting workshop," said Easter-Thomas. "It ensured people knew about the resources you could use in government and also how to use them."
The programs offered by OGOR are not exclusive to North Memphis.
"All of our workshops and trainings that we do, we also offer those to other neighborhoods," said Easter-Thomas. "We've gone and helped out Orange Mound."
"When people ask us to come do it in their neighborhood, we show them so that they can replicate the same thing," she continued. "Knowledge and information need to be reported and need to be shared."