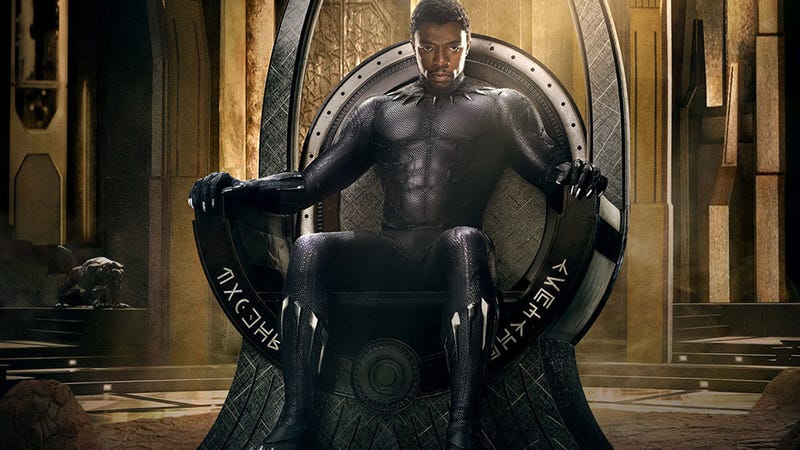 This year we have seen the magic that unfolds when black people have full control of their own art. From Get Out to Insecure, black writers, producers and directors have exemplified that the blacker the berry, the sweeter the juice. And they aren't finished! I would recommend clearing your schedules, because 2018 is stacked with black films and television series.
Films
Step Sisters
From Dear White People's Chuck Hayward comes a hilarious Netflix exclusive. Step Sisters focuses on Jamilah, who hopes to be admitted into her dream law school. When a white, party-hard sorority is threatened with having its charter revoked, the dean recruits Jamilah to teach them the art of black Greek stepping. If Sigma Beta Beta can win the Steptacular, their charter and reputation will be restored, and Jamilah will secure a much needed recommendation from her dean for Harvard Law. Lena Waithe and Ben Cory Jones are two of the five producers, and the cast features Power's Naturi Naughton, How to Get Away With Murder's Matt McGorry, and Dear White People stars Megalyn Echikunwoke, Nia Jervier and Marque Richardson. Step Sisters will be available on Netflix as soon as January.
Proud Mary
Taraji P. Henson as an assassin? Take all of my money. In Proud Mary, Henson plays Mary, a hit woman who "is completely turned around when she meets a young boy whose path she crosses when a professional hit goes bad." The film, which is directed by Babak Najafi, comes out Jan. 12.
Black Panther
Last month, Marvel showed us our first glimpses into Wakanda, and we haven't seen our wigs since. In this solo Black Panther movie, directed by Ryan Coogler, T'Challa (Chadwick Boseman) returns home to take his rightful place as king after the death of his father. When his enemies scheme to overthrow his throne, T'Challa squads up with Wakanda's special forces in a fight for his kingdom. The cast features Michael B. Jordan and Lupita Nyong'o and Daniel Kaluuya and Angela Bassett and Forest Whitaker and your mama and your auntie and your cousins, too. Black Panther will hit theaters Feb. 16 as the gift that keeps on giving during Black History Month.
Wrinkle in Time
Ava DuVernay has truly outdone herself with this colorful update of A Wrinkle in Time. The full-length trailer was released this week during the American Music Awards, and chile, we are still waiting for our souls to return to our bodies. The film, based on Madeleine L'Engle's 1963 novel of the same name, follows a young girl in her expedition across the universe to locate her missing father and defeat an evil darkness. The star-studded cast includes Storm Reid, Gugu Mbatha-Raw, Mindy Kaling, Andre Holland and the queen herself, Oprah Winfrey. A Wrinkle in Time will be coming to theaters March 9.
Acrimony
Tyler Perry's latest film looks unnerving, and not because he's playing an elderly black woman in it. Acrimony centers Melinda (played by Taraji P. Henson), a dutiful wife who discovers that not only has her husband been stepping out on her, but he is also engaged to another woman. She becomes unhinged in this psychological thriller, which is slated to roll out in theaters March 30.
The Hate U Give
George Tillman Jr. will direct this film adaptation of Angela Thomas' best-selling novel for young adults. Amandla Stenberg will play Starr, who is constantly balancing juggling the black, low-income neighborhood where she resides and the wealthy, white, privileged private school that she attends. The tale, inspired by the Black Lives Matter movement, intensifies when Starr witnesses her friend fatally shot by a police officer.
If Beale Street Could Talk
Barry Jenkins' first feature film after Moonlight is If Beale Street Could Talk, based on the James Baldwin novel. The movie and novel follow a pregnant Harlem woman whose fiance is falsely accused of raping another woman. Regina King, Teyona Parris, Colman Domingo and Kiki Layne are among those who have signed on to star in the film, and production is already underway.
Black Klansman
Spike Lee and Jordan Peele will collaborate (Lee as director and producer; Peele as producer) on Black Klansman, a depiction of the true story of a black police officer who infiltrated the Ku Klux Klan. The officer, who will be played by John David Washington, Denzel Washington's son, was able to rise to the head of a local chapter, disrupting the KKK's activities from the inside and gathering important intel. In other words, he was the real MVP. The same production companies that partnered on Get Out will come together again for Black Klansman.
Canal Street
Canal Street's website describes the movie as "a modern-day thriller telling the story of a teen, Kholi Styles (played by Empire's Bryshere Gray), trying to get by in an unwelcoming new world. After the mysterious death of a classmate, all eyes fall on Kholi, the new kid at his high school. It's up to his father, Jackie Styles, an up-and-coming lawyer from the slums of Chicago, to defend his son in court and battle an outraged public before time runs out."
TV Shows
The Chi
The Chi will "explore the humanity behind the headlines sensationalizing the South Side of Chicago." Showtime's description, according to Deadline: "Kevin (Hibbert) is the pre-teen who must step past shattered illusions and embrace the normal rites of childhood, while Brandon (Mitchell) the dreamer makes his own nearly impossible leap of faith to succeed in life and love with girlfriend Jerrika (Boone). Emmett (Latimore) is the carefree teen is thrust into complex responsibility with guidance from his mother Jada (Ross), and Ronnie (Mwine) is the drifter whose struggle to love and be loved calls into question his every pursuit." The series, which will air on Showtime on Jan. 7, was created by Lena Waithe and executive-produced by Waithe, Common, Elwood Reid and Aaron Kaplan.
Dave Chappelle: Equanimity
New Year's Eve technically counts as 2018, right? Earlier this year, Netflix debuted Dave Chappelle's first TV concert specials in 12 years. Although the two shows Netflix released were older but previously unaired, Dave Chappelle: Equanimity is a newly shot special. A teaser for the show was recently released featuring Chappelle in Eleven's world of Stranger Things.
Grown-ish
In this Black-ish spinoff, we follow Zoey Johnson (Yara Shahidi) to college! This series will be the first experience at college not only for Zoey but also for Shahidi, who deferred her start at Harvard to film the series. The show, originally titled College-ish, will air on Freeform rather than ABC in an effort to target a younger demographic. Grown-ish will hit the small screen Jan. 3.
Black Lightning
Another black superhero has landed a solo series! Black Lightning will premiere on the CW on Jan. 16. Jefferson Pierce is a high school principal and the father of two. However, nearly a decade ago, he was a vigilante who used his ability to control electricity to protect the streets of his city. He gave up this superhero life in order to start a family, but with trouble on the rise, Jefferson's alter ego, Black Lightning, must make a comeback.
Tell Them We Are Rising
PBS' Tell Them We Are Rising: The Story of Black Colleges and Universities is one part of the three-part series America Revisited that includes the already aired The Black Panthers: Vanguard of the Revolution and the upcoming The Slave Trade: Creating a New World. Tell Them We Are Rising tells a familiar tale of resilience, exploring the founding of HBCUs and the important role they have played in American and black culture. You can expect the television documentary to air on PBS on Feb. 20.
Pose
Pose "looks at the juxtaposition of several segments of life and society in New York: the rise of the luxury Trump-era universe, the downtown social and literary scene and the ball culture world," according to Deadline. The show breaks the record for the number of transgender actors in regular roles for a scripted series and includes actresses M.J. Rodriguez, Indya Moore, Dominique Jackson, Hailie Sahar and Angelica Ross. The show's home will be the FX network, and icon Janet Mock will be collaborating with Ryan Murphy on the script.
The Last O.G.
The Last O.G., a new TBS comedy series developed by Tracy Morgan and Jordan Peele, stars Morgan as a man who comes back to Brooklyn, N.Y.'s Bedford-Stuyvesant neighborhood, only to discover that it has turned into a gentrified hipster locale. The show was originally set to premiere in 2017, but delays have pushed it into 2018.
Honorable Mentions
Slice
On Halloween, A24 released a teaser of Slice, an upcoming horror film starring Chance the Rapper. A24 is the same production company that brought us Moonlight, so we can expect this werewolf murder mystery to deliver. Though intriguing, Slice lands in the honorable-mentions category because the amount of blackness behind the camera cannot yet be ascertained.
Productions to Get Excited About
These features are in the works but may not quite make their way to the screen in 2018:
Do you have a movie or television show you're looking forward to in 2018 that is not listed here? Tell us about it in the comments!