By Michael Wagaman, Associated Press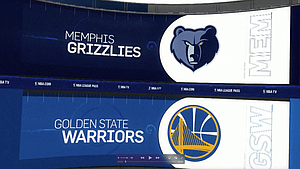 The Warriors took a big step forward in securing home-court advantage in the playoffs with yet another offensive surge in the second half, keyed by a stifling defense.
More importantly, Golden State put some more distance between itself and a possible first-round matchup against Memphis — one of only two teams to have beaten coach Steve Kerr's squad more than once this season.
Klay Thompson scored 21 of his 31 points in the second half and the Warriors pulled away in the fourth quarter to beat the Grizzlies 106-94 on Sunday for their seventh straight win.
"We just picked up our intensity," Kerr said. "Most of the second half, I thought our defense was much better. That fueled our offense a little bit. When we can get stops and get out and run and hit a couple of 3-pointers, that really gives our team a good charge."
Stephen Curry added 21 points and 11 assists, Andre Iguodala scored 20 and Draymond Green had nine points and seven rebounds as the Warriors (59-14) extended their lead to 2 ½ games over the San Antonio Spurs in the race for the top spot in the West.
The win did more than keep Golden State in front of San Antonio. It also kicked off a stretch of five games in eight days when the Warriors will face playoff contenders Houston (twice), San Antonio and Washington.
"At this point in the season and the playoff teams that we have coming up, it gets you into that focus mode," Curry said. "It's a good warmup for us to understand how important each game is, each possession is, and not look ahead. That's playoff mentality."
Memphis had beaten the Warriors twice previously this season and was attempting to become the first team to notch three regular-season wins against Golden State since the Spurs' four-game sweep in 2013-14.
The Grizzlies nearly pulled it off and stayed close until the fourth quarter, when their offense went cold and the Warriors took off.
"I don't know where our brains went," Memphis coach David Fizdale said. "Every single situation where we were supposed to switch or execute a certain thing defensively, we just went out to lunch. I don't know what happened."
Thompson made back-to-back 3-pointers and Curry later added two of his own from beyond the arc to put Golden State up 99-88.
Memphis, which missed 15 of its first 17 shots in the fourth quarter, couldn't recover.
Mike Conley scored 29 points, Zach Randolph added 15 and JaMychal Green had 13 points and eight rebounds for the Grizzlies, who were without center Marc Gasol (left foot strain).
Even with their 7-foot-1-inch center absent, the Grizzlies gave the Warriors problems early.
Randolph had 12 points in the first half and Conley made all seven of his free-throw attempts in the second quarter to pace Memphis inside, while Green repeatedly scored from the perimeter.
Iguodala kept Golden State in it, shooting 5 of 6 with a pair of 3-pointers to help the Warriors to a 56-54 halftime lead.
"We did a great job of running them off the 3-point line, helping out on Z-Bo (Randolph) in the post and flying around," Thompson said.
GOING SMALL
Part of the Warriors' success in the second half came after Kerr went to a smaller lineup and moved Green to center in the third quarter. "Their speed, their high pick-and-roll was bothering us a little bit," Kerr said. "Putting Draymond at the center spot sped the game up for us and gave us better defense at the point of attack. We just shifted gears a little bit."
TIP-INS
Grizzlies: Randolph's start was only his fourth of the season and first since Feb. 4. … Gasol was at Oracle Arena, but watched the game from the Memphis locker room. … The Grizzlies shot 5 of 25 overall in the fourth quarter.
Warriors: Kerr has 199 career wins as Golden State's coach. … The 59 wins tie the 1975-76 team for third-most in franchise history. … Iguodala froze Conley with a hesitation move, then drove past the Memphis guard for a thunderous one-handed dunk in the third quarter.
UP NEXT
Grizzlies: End their four-game road trip Monday night in Sacramento.
Warriors: Play at the Rockets on Tuesday in the front end of a back-to-back. Golden State and Houston have split two games this season.