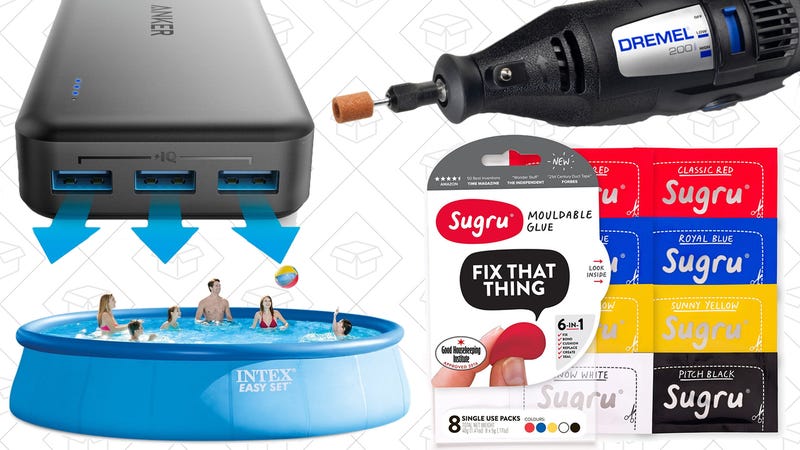 Anker's PowerCore II battery pack, a $29 Dremel, and discounted Sugru lead off Tuesday's best deals from around the web.
Bookmark Kinja Deals and follow us on Twitter to never miss a deal.
Top Tech Deals
Anker's PowerCore line has reigned as our readers' favorite USB battery pack for nearly a year, and its long awaited sequel is cheaper than ever today with promo code LIPO3399.
For a limited time, you can grab the PowerCore II 20000 for $34, the best price we've ever seen. In addition to a fresh new design, the PowerCore II includes three high speed USB charging ports with a whopping 30W shared between them, plus dual 10W microUSB inputs, allowing you to recharge the entire brick twice as quickly.
---
We own so many mobile devices now, it only makes sense for surge protectors and power strips to include USB ports in addition to AC outlets. This $19 charger from iClever includes six of each, so you should never be short a place to plug in.
---
If you missed out on yesterday's Anker vertical mouse deal, today we have an even more affordable alternative from Velocifire. $13 gets you an ergonomic design, three different DPI levels, and forward/back buttons.
If for whatever reason you prefer a wired mouse, you can save on this model as well.
---
We know you guys like Velcro cable ties, but if you're interested in a different option for keeping your wires organized, these neoprene zip-up sleeves are another great option. $11 gets you four 20″ sleeves, each of which includes a buckle that allows you to attach them together.
---
Yi makes your favorite budget action cam, and right now its 4K sibling is just $170 with the code YISPROFF. I got a chance to test this guy out on the rapids of the Hudson River and let me tell you, it's a lot of bang for its buck. So if you've got champagne taste but a beer budget, this is the action cam for you.
It's a little bit larger in size than the GoProHero Black, but by only a little more than half an inch. It can shoot that coveted 4k at 30fps or 720p at 240fps, which is kind of astounding for an under-$300 cam (even if it can't shoot 1080p at 120fps like the Hero4 Black). Plus, the listed battery life on the Yi is 2 hours, compared to the 1.5 hours on the GoPro.
---
Amazon usually sells certified refurbished Echo Dots for $5 less than new models, but for now at least, that discount has increased to $12. Refurbished Dots still carry the same warranty as new ones, so there's really no downside to going this route if you want to sprinkle these around your home on a budget.
---
Vizio's turnkey sound bar systems are the easiest way to upgrade to 5.1 surround sound, requiring relatively few wires, and no AV receiver. We haven't seen a decent deal on them in awhile, but while supplies last, you can pick up a refurb for just $150. I own this exact system, and absolutely love it.
---
It's officially beach season, and if you want to keep your phones protected from the surf and sand, you can get a two-pack of Mpow dry bags for just $7 today with promo code F75VF8GY.
---
You don't need to sell a kidney to afford noise-cancelling Bluetooth earbuds; these 4 star-rated Cowin E-7s are just $39 right now, or $31 off with promo code K8WP23JH.
They might not have the brand recognition of Sony or Bose, but these headphones pack in 30 hours of battery life, the ability to use them in wired mode if the battery dies, and yes, active noise cancellation that reviewers say works really well.
---
Anker's original SoundBuds are your favorite affordable wireless earbuds, but the new SoundBuds Tag just got their biggest discount ever. $26 is $10 less than usual, and beats the previous deal we saw by $2.
The Tags basically appear to be a slightly tweaked version of the SoundBuds Sport, boasting a redesigned remote and better ear tips. Like the Sports though, they'll still turn off when you connect the two magnetic earpieces together, and turn back on once you pull them apart. Smart.
Top Home Deals
Sugru is right up there with binder clips and the Raspberry Pi in Lifehacker's pantheon of must-have gear, and you can stock up today with eight multicolor packs from Amazon for just $13, the best price we've seen so far this year.
---
You might not need to use a Dremel all that often, but it's one of those things everyone should keep in their tool box, if only for sanding wood and carving jack-o-lanterns. Hell, my wife just used ours to turn an iPhone 6 case into an iPhone 7 case.
The Dremel 200 is an entry level model, and thus can only spin at two speeds, compared to the variable speed motor you'll find in more expensive models. But still, it'll get the job done for a ton of tasks around the house, and includes 15 accessories to get you started. Today's deal is one of the lowest Amazon's ever listed, but it's only available today, or until sold out.
---
If you have any lamps or appliances you wish you could control from afar, Belkin's popular WeMo Switch is marked down to just $15 today, if you don't mind buying a refurb.
All you have to do is plug one of these in between a wall outlet and the device of your choice, and you'll be able to turn it on or off from your smartphone or Amazon Echo, create automatic schedules, and even tie it to IFTTT recipes. For example, you could program your lights to come on when you pull into the driveway, or turn off when your Nest thermostat detects that you're not home.
---
It's officially pool season, and today's Amazon Gold Box deal brings the water to you in the form of a two inflatable Intex above-ground pools for some of the lowest prices ever. Neither is really big enough for swimming laps, but they're great for lounging and water games on a hot day.
The kits both incldue a pump to circulate the water, and their drains hook up to a garden hose so you can empty it into a storm grate instead of your back yard. In addition, the larger model includes a ladder, a pool cover, and a ground cloth to protect your lawn. This price is only valid today, or until sold out , but no running!
---
I don't mean to alarm you, but you're probably pooping all wrong. Luckily, there's an easy solution: Squatty Potty, marked down to $19 today, from its usual $25.
Squatty Potty is designed to lift your legs into an ideal bowel movement position, and according to Amazon reviewers at least, it really works. I can't really overstate how popular popular this thing has been with our readers over the past year or so, and discounts of this size are extremely rare, so it's time to purchase or get off the pot.
---
If you have any flights on the horizon, this discounted Southwest gift card can make your ticket just a little bit cheaper. The best part is that even if you book the lowest fares, you can always change them with no penalty, and even cancel for a refund in the form of a 1-year voucher.
---
Having a good chef's knife in your kitchen is like owning a good pair of pants. It's utilitarian and easy-to-use and will last you a while if you invest in one. That being said, you don't need to spend a fortune on a reliable knife. Invest in this one from Imarku, marked down to $23, instead. But this price chop only lasts for today or until sold out.
And, if you add a little more user-friendly cleaning to your grilling experience, grab some of these inexpensive grilling mats.
---
Our readers have bought thousands of outdoor motion-sensing spotlights over the past few years, and today, we have great deals on a few unique models.
OxyLED's OxySol is notable for having not one, but two motion detectors, giving it a massive 210 degree field of view. Obviously, its utility will depend on where you mount it, but it would be ideal on the corner of your home. Get it for just $10 with promo code 1OXYSL07.
Alternatively, you could opt for Mpow's new spotlights, which can be aimed in any direction you want, and include a supplemental solar panel that can be mounted over four feet away from the light itself (which also has a small solar panel built into the top). Get one for $24 with code BJE6KIG4, or two for $42 with code UXSYV5A6.
---
We'll probably be a Russian colony soon, so you might as well start assimilating to the culture by buying a dash cam. This one from Aukey includes a 1080p Sony sensor and 170 degree field of view, two different mounting options, and capacitors that are rated to work in temperatures from -4°F to 149°F.
---
Some people can't live without their coffee, but for me, it's fizzy water. While supplies last, you can get a SodaStream Source from Amazon for $62 (after you clip the $15 coupon), complete with a small starter CO2 canister, and a mail-in rebate for a free full-sized starter canister. If you regularly buy soda or carbonated water at the store, it'll pay for itself.
---
If your tires are about due for a replacement, Discount Tire Direct is offering up to $100 in Visa gift card rebates (in addition to any manufacturer rebates) when you order four new tires, plus an additional $100 if you order wheels as well, plus an extra $60 on each if you use a Discount Tire credit card. Just enter your make and model, click the options to see tires on promotion, and you'll see the rebate amount (either $25, $75, or $100) on the right hand side.
---
While suction cup-based smartphone car mounts have been largely supplanted by magnetic solutions, this Anker dash mount is a fantastic option for anyone who doesn't want to block a vent or use a case with their phone. If that sounds like you, speed over to Amazon to get it for $14, its lowest price in months.
---
To celebrate Memorial Day, eBay is offering 20% off select home goods with promo code P20MEMDAY, including Dyson vacuums.
Unlike most eBay coupons, there doesn't seem to be a single list of eligible sellers to pick from; though their Home & Garden landing page should be a decent place to start. The discount is capped at $50, and you'll need to purchase at least $50 worth of eligible items to get it. Once you get to the checkout screen, choose PayPal as your payment method and enter the promo code to see the discount.
Top Lifestyle Deals
Memorial Day is basically the unofficial start of summer, so it's time to prepare now. Amazon is marking down a ton of Speedo styles (and not just the banana hammocks) to as low as $10, for men, women, and kids. If you have a beach trip planned for this weekend, or any time this summer, this is where you want to stock up.
---
The Nomatic BASICS wallet is one of our readers' four favorite front pocket wallets, and you can try one out for just $13 today, down from its usual $20. We've seen it dip as low as $10 on a few occasions, but if your current wallet has seen better days, this is still a great deal. You even get to pick from three different colors.
---
This $14 camping hammock can fold up to fit in a bag, so you can take it to your favorite Pokémon gyms parks and enjoy the outdoors. It even comes with carabiners and ropes, but you'll need a set of tree straps to connect it to trunks.
---
The weather is actually nice, and Mountain Hardwear has the apparel and gear for you to enjoy it. Take an 25% off select items as part of their Memorial Day sale. Go climb a mountain or hike a trail. Or just look like you do those things while walking the dog.
---
If reliability is something you crave in a pair of shoes (if it isn't, you may need to reconsider), I bet you have Cole Haan in your closet. And if you're looking for a new pair but don't want to spend the normal asking price, Nordstrom Rack is having a huge sale on everything Cole Haan. Men's and women's styles, plus handbags and men's accessories are included.
---
If you've been using the crappy weather as an excuse not to go for a run, you're SOL. Amazon is right there with you, marking down select styles from Mission Apparel so you can get outside, even if it's just for a nice, brisk walk to the deli for a sandwich.
---
If you've been eyeing a piece from Everlane for the upcoming three-day weekend, but didn't want to deal with paying extra shipping costs, now's your chance. Today only, Everlane is giving you free two-day shipping on everything they sell, including their expanded Choose What You Pay section.
---
The price of these popular Bowflex adjustable dumbbells has been yo-yoing for weeks, but generally speaking, any time they've dipped below $200, they've sold out fairly quickly. So if you missed out on the last few opportunities, Amazon's spotting you another chance today.
Top Media Deals
Amazon's running another wide-ranging ebook deal, with prices starting at $2 on the top book club titles from Goodreads. Everything from sci-fi to literature to mystery is marked down. Just remember that these prices are only available today, so don't miss this chance to fill up your digital bookshelves.
---
If you still haven't tried Spotify Premium, you can get three months for just $1 for a limited time. That's three months of no ads, better sound quality, offline listening, and full mobile access. Best buck you'll ever spend.
Note: Only first time Premium subscribers are eligible for this offer.
Top Gaming Deals
If you regularly shop at GameStop, this discounted gift card is basically $15 in your pocket. You won't even have to trade in your old games.
We see ~10% discounts on GameStop cards from time to time, but 15% is extremely rare.
---
The Steam Summer Sale is still a month away, but you can whet your appetite with Humble's equally enormous Spring Sale.
Inside, you'll find literally thousands of game deals from the likes of Ubisoft, Deep Silver, Focus, Konami, and more. Plus, since it's Humble, 5% of your purchase will go to charity, or if you so choose, back into your Humble Wallet for future purchases.
---
As a compulsive fidgeter, I've tried both fidget cubes and fidget spinners, and there's frankly no comparison; cubes are far superior. Why limit yourself to spinning when you can roll, click, press, flick, and rub, all on one device? There are two different colors available for $5, just note that they have different promo codes.
Tech
Storage
Power
Audio
Home Theater
Computers & Accessories
Mobile Devices
Photography
Home
Kitchen
Tools & Auto
Lifestyle
Apparel
Beauty & Grooming
Camping & Outdoors
Media
Movies & TV
Books
Gaming
Peripherals
PC
PlayStation 4
Xbox One
Switch
Toys