By Sandra Upchurch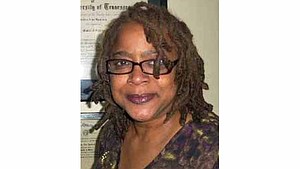 At one time, our nation built big projects that benefited everyone. The Tennessee Valley's growth is a product of America's Greatest Generation building big things. While some wonder if we will ever return to that bold vision, our region has another opportunity to set the stage for the next generation. Now is the time for the Tennessee Valley Authority to sign up for the Plains and Eastern Clean Line wind power transmission project.
The Plains and Eastern Clean Line transmission project would connect high-quality Oklahoma wind energy resources to the Tennessee Valley and beyond in what would become the largest clean energy infrastructure project in the country.
As wind turbine technology has advanced, wind power prices have plummeted. In the past six years, wind energy prices declined by over 60% and have hit all-time historic lows. Western Oklahoma contains some of the best wind energy resources in the country – some recent wind farms in the area generate electricity for less than two cents per kilowatt-hour. That's comparable to the price of operating a modern natural gas power plant, making wind not only cost-effective but a guaranteed low-cost electricity source for decades in the future.
With high wind speeds, and plenty of farmers and ranchers clamoring to rent out space for wind farms on their private property, the biggest impediment to wind farm development is the limited transmission power line infrastructure necessary to deliver this abundant power to utility purchasers.
In order to deliver low cost wind power to the Southeast, a $300 million high voltage direct current converter station will be built in Shelby County and deliver benefits locally, including reduced electric rates, increased local tax revenue and construction and permanent jobs.
The national significance of the Clean Line project cannot be overstated. The transmission line would deliver five times more power than the Hoover Dam from clean, renewable wind energy. The project's aggregated 4,000 megawatts of wind power would be the largest power plant in the country – enough to power more than 1.5 million homes annually.
Utilities can buy wind energy and cut back usage on higher cost (and more polluting) power plants, and pass on lower rates to customers. Major companies like Google, Apple and Mars Inc. want low-cost renewable energy and are making decisions on where to site new locations based on renewable energy availability. That's why the Black Business Association of Memphis, Millington Area Chamber of Commerce, Tennessee Advanced Energy Business Council (TAEBC) and the Tennessee Chamber of Commerce & Industry support the Plains and Eastern Clean Line project. Recently, Clean Line Energy and GE Energy Connections announced a partnership to construct the new converter stations.
The wind power transmission line will also bring significant tax revenue to Shelby County. For the first 11 years, the transmission converter station is expected to generate $36 million in local tax revenue. Citing the additional local revenue, the Memphis Gas, Light & Water (MGLW) board, the Memphis City Council, Memphis' Mayor, and the Shelby County Commission all submitted supportive proclamations to the Tennessee Regulatory Authority in support of the Plains and Eastern Clean Line project.
While the Tennessee Valley will benefit from purchasing a large quantity of wind power delivered on the Plains and Eastern Clean Line, other major electric companies throughout the southeast are also interested in low-cost wind power. Duke Energy, Alabama Power, Georgia Power and even Florida utilities could contract for wind power. TVA would gain additional revenue (potentially millions of dollars) by using its existing transmission system to move wind power to other electric companies around the region.
The Plains and Eastern Clean Line project has received its regulatory approvals. In 2015, the United States Department of Energy conducted an exhaustive environmental impact review for the entire project, and "did not identify widespread significant impacts as a result of construction or operations and maintenance of the Project." The next step is for electric utilities, like TVA, to announce plans to procure substantial quantities of low-cost wind power.
In 1933, a group of dedicated people set out to form TVA and its mission to provide energy, support environmental stewardship and create economic development. Over 80 years later, the Plains and Eastern Clean Line wind power transmission line project fulfills TVA's promise in a big and bold way. It's time for TVA to jump on the Clean Line.
(Sandra Upchurch, Energy Organizer for Southern Alliance for Clean Energy, can be reached at [email protected] For more information, visit http://www.cleanenergy.org; http://blog.cleanenergy.org.)