By TSD Newsroom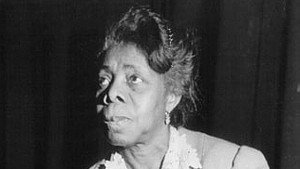 Mt. Nebo Baptist Church at 555 Vance Ave. will be the venue when the life of Lucie E. Campbell – often called "The Mother of Gospel Music" – is celebrated during the church's observation of Women's History Month.
The celebration is set for 3 p.m. on Sunday, March 12.
Born in Duckhill, Miss. to former slaves in 1885, Campbell spent most of her professional career teaching English and American History at Booker T. Washington High School and as music director for the National Baptist Convention for 40-plus years. She earned a bachelor's degree from Rust College in 1927. At 66, she got her master's degree from Tennessee Agricultural and Industrial State College, now Tennessee State University.
The featured speaker for the celebration at Mt. Nebo is Dr. Mildred Green, professor emeritus at The LeMoyne-Owen College. Dr. Green has spent more than 10 years researching Memphis' religious musicians and composers. Campbell stands out amid such research.
Soon after her birth, Campbell's father died while he was working on the Mississippi Central Railroad. Her mother then moved the family to Memphis, where Campbell taught herself to play the piano.
In 1916, Campbell was named music director of the National Baptist Convention. With that platform, Campbell became a force. According to her bio at memphishallofmusic.com, the position allowed her to "not only promote her own songs but the songs of a new generation of gospel composers, thereby shaping the tastes, style, and repertoire of black congregational and gospel music through much of the twentieth century."
Gospel songbird Deborah Manning Thomas will perform Campbell's signature song – "Something Within" – during the tribute, with accompaniment by Reginald Gaston.
"Something Within" is widely recognized as the first gospel hymn published by an African-American woman.
This excerpt from her bio at memphishallofmusic.com sets the context:
"The story goes that Campbell overheard a group of people on Beale Street provoke a blind guitar evangelist, Connie Rosemond, to 'get down in the alley' and play 'St. Louis Blues,' to which he replied that 'something within' kept him from doing so.
"Campbell unveiled the song at the (1919 NBC) convention with its performer who recorded it and three additional Campbell compositions at his 1927 sessions for Victor. Decades later 'Something Within' has remained a favorite in black and white gospel circles from Elvis Presley harmonizers the Jordaniares to Take 6 and has inspired both a website on women and faith and the title of a book on African American political activism."
ACER (Action Communication Educational Reform, Inc.), a not-for-profit agency in Duckhill, MS., is sponsoring the event at Mt. Nebo and acknowledging Campbell's contributions in Memphis. Later this year, Campbell will be honored in Duckhill as Mississippi celebrates its bicentennial and historic Mississippians.
Campbell died in 1963.
(For more info, contact Dr. Yvonne Robinson Jones at 901-292-5935.)