By Paula Anderson, Special to TSDMemphis.com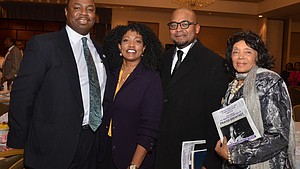 The LeMoyne-Owen College Alumni Association-Memphis Chapter hosted the 26th Annual Prayer Breakfast honoring the legacy and life of Dr. Martin Luther King Jr. at the Holiday Inn-University of Memphis on Monday.
Katrina Edwards, Memphis Chapter president said, "This year's theme – 'Prayerfully Pursuing the Dream' – gives recognition to a man who influenced the lives of so many people through his non-violent approaches to injustice, and a pathway to equality."
LOC alumni, local government officials and community supporters gathered on Martin Luther King Jr. Day Jr. for the breakfast, which is held to honor Dr. King and raise money for scholarships to benefit The LeMoyne-Owen College.
The Rev. Stoney Butler Jr. MLK Committee co-chair, said, "I am honored to serve this great institution by upholding and remembering Dr. King's Dream."
Ninth District Congressman Steve Cohen, Shelby County Mayor Mark H. Lutrell Jr., Mayor Jim Strickland and LOC President Dr. Andrea Lewis-Miller extended greetings to a crowd of 300-plus supporters. Each spoke about the significance of the event and the impact of Dr. King's life.
City Councilwoman Janis Fullilove (Super District 8, Position 2) served as mistress of ceremonies to the obvious delight of the audience. Local pastors prayed for justice, peace, the community and the college.
The Rev. Willie B. E. Boyd Jr., pastor of Martin Memorial Temple C.M.E. Church, delivered a message that some later termed timely and relevant.
"God has brought us through a winding way, but yet there are some pathologies and some problems among us that we need to discuss," said Boyd, painting a picture of the state of Black America.
"What I want to discuss with us today is some family business, but we need to discuss it because our communities are dysfunctional."
He talked about a generation (Baby Boomers) that raised children who did not endure their parents' struggles and hardships. He called the dropout rate alarming and touched on the overall appearance that job seekers must radiate when completing applications for employment.
Boyd's message referenced the book "Disintegration: The Splintering of Black America" authored by Eugene Robinson, who asserted that there is "no one black agenda" and four Black Americas.
Guided by Robinson's book, Boyd talked about those four Black Americas:
Mainstream Black America – "(T)hey are the Mercedes and Lexus crowd…they are the skilled labor…trained minds…"
Abandon Segment – "(T)hat crowd from Katrina in New Orleans…parts of South Memphis that has been marginalized and pushed aside" and forgotten by the "larger culture"… blacks in the mainstream never think about those folks in the margins."
Transcendent Crowd – "This group's influence transcends the African-American Community." It includes Oprah, Tiger, Jay Z and Beyoncé and others called by their first names.
Emerging Crowd – "…Nigerians and Liberians who come here with Terminal degrees and get the best jobs and they come here from the West Indies and from the Caribbean Islands and take over in our communities and we are left with nothing but empty lots…poor schools…substandard health care, and we are satisfied with that!"
The differences notwithstanding, Boyd shared that he was hopeful, buffeting that view with lines from James Weldon Johnson's "Lift Every Voice and Sing," which often is called the Black National Anthem.
Bobby L. White Jr., founder/CEO of Frayser Community Schools, took note of Boyd's explanations about how past generations have shaped the character for many of us, adding that Boyd's "voice and style are eerily close to Dr. King."
Jeffrey Higgs, LeMoyne-Owen College's National Alumni President, said, "Rev. Boyd made it very clear that we as people have much work to do to continue the legacy of helping people…help themselves."
And, said Higgs, "Rev. Boyd reminded us all of the essence of commitment and how that commitment should translate for us as alumni, friends and supporters of LeMoyne-Owen College."