By Montee Lopez, Special to The New Tri-State Defender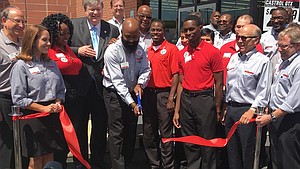 The Memphis-based automotive parts chain AutoZone opened its 6,000th store in the country in Memphis last Friday.
"I am so grateful AutoZone is in Memphis, Tennessee," Mayor Jim Strickland said about the longstanding company that's now a staple in the Memphis business community.
The new store – located at 2761 Kirby Rd. – was spic, span and ready for the public.
Regional AutoZone leaders and the Memphis Grizzlies Drumline also were among those present for the ribbon cutting, which signaled that the new store officially was open for business.
"I want to thank all the dedicated AutoZoners out there," AutoZone Founder Pitt Hyde said. "Through their superior customer service, that has allowed us to build this amazing company."
The first AutoZone, originally called "AutoShack," opened in 1979 in Forrest City, Ark. AutoZone now boasts 90,000 employees worldwide.
"The average person knows AutoZone Park and the AutoZone Liberty Bowl, but AutoZone does so much more for the community," Strickland said, pointing to the company's service to the community through giving back and education."
AutoZone has given more than $25 million to St. Jude Children's Research Hospital to help with day-to-day operations over the years.
"AutoZone has been a partner of the Mid-South Food Bank for 30 years," said Estella Mayhue-Greer, president & CEO of the Mid-South Food Bank.
"They lend their expertise to help the Mid-South Food Bank be more efficient. We couldn't do what we do each day to make a difference in the lives of more than 400,000 people, who on any given day don't get enough to eat, without the support of AutoZone."
Hyde thanked customers and the community for the success of the company over the past 40.
"The community has supported us from day one," Hyde said. "And we strive to be a great corporate citizen and give back to this community as much as we possibly can."