By TSD Newsroom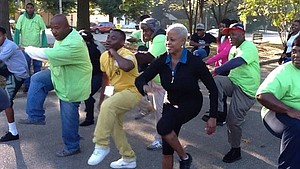 The 12th Annual Block Party and Picnic for Peace event kicks off Friday (Sept. 22) at Ed Rice Community Center. This year's focus for the three-day event is "Fatherhood: Changing the Narrative."
Organizers have a number of events centered around the focal topic such as the Success in the City panel discussion on fatherhood, a town hall meeting on child support and The School of Marriage Enhancement.
The Block Party begins with the Work ~N~ Progress Career and College Fair. Multiple employers will take applications, interview applicants and possibly hire on site.
The free celebration was created to improve quality of life through employment, education and healthy lifestyles.
"This is our approach to reducing crime; most crimes are committed for financial gain," said State Rep. Antonio Parkinson (District 98), the event founder.
"Our approach is to improve people's quality of life. When quality of life improves, they are less likely to be kicking your back door in."
New this year: The Step Competition, which includes at least seven sororities and fraternities, and Friday Night Fights-youth boxing match.
"I believe in my heart that boxing in Memphis will save the lives of some of our youth," Parkinson said.
For more information, call 901-379-9101 or visit www.BlockPartyForPeace.com.