By TSD Newsroom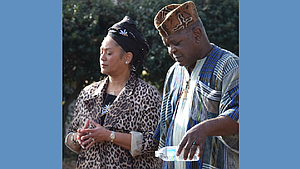 Dr. Kaia Naantaanbuu, president of Memphis Kwanzaa International, Inc., has passed away, a family spokesman confirmed on Wednesday (Aug. 30) afternoon.
Naantaanbuu became ill early last week during a trip to Jackson, Tn. She was pronounced dead Tuesday morning at a Jackson hospital, where she had been cared for several days.
A decision on a memorial service will be made next week.
"She was one of a kind," her husband, Fred Jones Sr. said. "There was no one else like her. Whatever came out of her mouth, that's what she meant. She did not bite her tongue."
Jones said Naantaanbuu suffered a heart attack.
"She was unresponsive when she got to the hospital," Jones said. "She did not get to the hospital in time enough."
A health care professional, Dr. Naantaanbuu is recognizable to many as a Wal-Mart pharmacist. She took over as Memphis Kwanzaa International president after the death of her mother, Adjua Abi Naantaanbuu.
As Memphis Kwanzaa International president, Dr. Naantaanbuu had undertaken an effort to make Kwanzaa – the African-American cultural celebration observed Dec. 26-Jan. 1 – more of a year-round factor in the lives of the African-American community. And particularly so as it related to health.
Her effort was rooted in South Memphis at the Memphis Kwanzaa Cultural Health and Education Center, 1549 Elvis Presley Blvd, headquarters of Memphis Kwanzaa International, Inc. The center, which opened about five years ago, was dedicated to her mother.
Zulu Naantaanbuu said while his sister had not brought about all that she envisioned for the center she had made great strides in that direction.
In an interview with The New Tri-State Defender last year, Dr. Naantaanbuu talked of aligning the center with job readiness, parenting classes, health screening, G.E.D. preparation, cultural classes (language, music, dance), community outreach, and prison ministry.
A health fair she was coordinating at the time was part of the education component.
Dr. Naantaanbuu was a graduate of the University of Tennessee College of Pharmacy.
She also leaves a daughter, Amina Z. Naantaanbuu-Jones, a son, John David Jackson Jr., and another brother, Tyehimba Naantaanbuu.
NOTE: TSDMemphis.com published an erroneous report about the death of Dr. Kaia Naantaanbuu last week. We regret the error and extend our professional apology.