By TSD Newsroom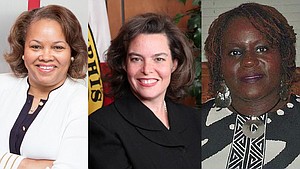 NASHVILLE – Emerge Tennessee, an affiliate of Emerge America, this week
announced its first Board of Directors with 15 members from across the state.
Among board members are Memphis NAACP President Deidre Malone and Olliette
Murray-Drobot, executive director of The Family Center, as well as Maura Black Sullivan,
deputy chief administrative officer to former Mayor A C Wharton Jr..
Last week Emerge Tennessee posted the position seeking its first executive director,
Executive Director, and the organization plans its first training program to open in March.
"We believe that if families, women and children are to succeed in Tennessee, then we
must start by electing Democratic women to focus on the critical policies like education,
healthcare, transportation, jobs, affordable housing and equity," said Carol Brown Andrews, a
founding member and board member. "Our mission is to recruit, train and empower Democratic
women to run for office on every level to make our communities stronger from the grassroots
up."
Malone, president and CEO of The Carter Malone Group, LLC, Memphis, is the vice
president of Communications for the National Women's Political Caucus and a former Shelby
County Commissioner.
Murray-Drobot has 20 years of experience in not-for- profit management. The Family
Safety Center (FSC) coordinates civil, criminal, health and social services for domestic violence
victims. A member of the Memphis/Shelby Crime Commission Board of Directors, she is also a
board member of the Memphis/Shelby County Domestic Violence and Sexual Assault Council.
Sullivan, formerly of Memphis, now is chief operating officer of the City of
Chattanooga. She was also deputy division director in the Division of Planning and Development
in Memphis and Shelby County, and assistant superintendent, Planning and Student Services for
Shelby County Schools. Earlier in her career, she Maura launched her own public affairs and
public relations consultancy and served as special assistant to former Congressman Harold E.
Ford Jr.
Emerge Tennessee is an affiliate of Emerge America, which currently working in 17
states: Arizona, California, Colorado, Kentucky, Maine, Maryland, Massachusetts, Michigan,
Nevada, New Jersey, New Mexico, Oregon, Pennsylvania, Tennessee, Vermont, Virginia, and
Wisconsin.