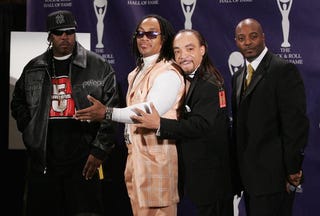 The Kidd Creole, one of the founding members of Grandmaster Flash and the Furious Five (and not to be confused with singer Kid Creole), has been charged with stabbing a homeless man to death.
News 4 New York reports that the pioneering rapper, born Nathaniel Glover, 57, was arrested and charged in midtown Manhattan Wedenesday afternoon. Glover confessed to stabbing 55-year-old John Jolly, according to a law-enforcement source, News 4 New York reports.
The New York Daily News reports that Glover was partially identified through surveillance video.
Jolly was stabbed three times in the chest shortly before midnight on Tuesday, authorities said. He was taken to a nearby hospital, where he was pronounced dead less than an hour later. NBC reports that he had been homeless and staying in a New York City shelter.
Grandmaster Flash and the Furious Five was founded in New York's South Bronx in 1976, and the group's members are credited as pioneers in what was then the burgeoning rap genre. In 2007, Grandmaster Flash and the Furious Five became the first hip-hop group to be inducted into the Rock and Roll Hall of Fame. The group's seminal 1982 single, "The Message," is considered one of the greatest hip-hop records of all time.
Read more at NBC News 4 and the New York Daily News.