By Erik Schelzig and Sheila Burke, The Associated Press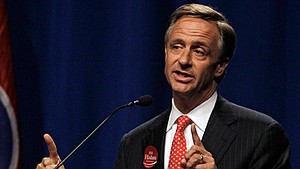 Republican Gov. Bill Haslam is expressing hope that President Donald Trump's visit to Nashville on Wednesday will shed more light on how health care changes will affect Tennessee.
A study by the nonpartisan Congressional Budget Office released earlier this week estimates that a GOP plan to replace former President Barack Obama's health care law would increase the ranks of the uninsured by 14 million people next year alone, and 24 million over a decade. Haslam said it's not clear how many people would be affected in Tennessee, and that the legislation could still change in Congress.
Haslam plans to attend a rally Trump is holding at Nashville's Municipal Auditorium.
"Hopefully he'll be engaging in some conversations that matter to us, primarily health care," Haslam said. "Obviously that's the biggest item in the budget and maybe the biggest question that's out there for the future of this state."
Haslam is among a group of seven governors who have called for control of the Medicaid program to be transferred from the federal government to the states within a financial limit. Instead of issuing block grants to the states, the governors want Congress to set "per-capita caps" that can be adjusted for factors such as the number of people being covered or expensive new medications coming into the market.
"The initial bill that I saw did not have all that much additional flexibility," Haslam said. "So that's our primary concern."
Several people spoke out against the GOP's proposed health care at a neighborhood clinic in Nashville that provides treatment to the poor, saying many people would lose coverage under the new measure being considered.
Kristen Grimm said she worries what might happen to people like her son if they lose protections under the Affordable Care Act. The Franklin woman's son was born with a vascular disease and has already had 19 surgeries, she said.
"Here is my truth: I did not vote for Obama," she said. "And it was not until the Affordable Care Act was law that I realized what a mercy it was to our son."
She said nobody walks through the hospital doors as a Republican or Democrat, and that many people would be harmed if the measure being debated in Congress becomes law.
"As a pro-life Christian, I am asking you, please do not let Congress do this to us," she said.
Mike Kukler, a 60-year-old La Vergne man who works at an independent grocery that offers no insurance, estimates that his monthly premium of $285 would double under the proposal being considered in Congress.
Kukler currently gets a subsidy to help him pay for his health insurance.
"It makes it affordable," he said. "If it was $600 a month versus $300 a month, I'd have to think twice about health insurance."
He said he's largely healthy with the exception of blood pressure problems, but still would like to have insurance to not be a burden on anyone if he does get sick. Still, he doesn't know how he can afford it if the new health proposal becomes law.
"I couldn't take on a second job because I work pretty good hours when I'm there. I work 50 hours or more. Plus, I'm a 60 year old man."