By Karanja A. Ajanaku, [email protected]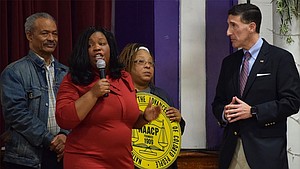 BROWNSVILLE, Tenn. – "Lifelong conservative" is David Kustoff's self-embraced description, which doesn't exactly make him a top-of-mind thought when it comes to being a speaker at the Haywood County Branch NAACP's Annual Martin Luther King Jr. Day Celebration.
Yet, there he was – the newly elected representative for the 8th Congressional District of Tennessee – speaking from the podium in Carver High School in a West Tennessee community that is populated predominantly (60-plus percent) by African Americans. The stark optics were made even more so by the fact that he is the most visible supporter of President-elect Donald Trump, who was riding a wave of pushback after essentially calling civil rights icon John Lewis all talk with no action.
And this after Lewis had declared he would not attend the inauguration of a President-elect who had gained access to the White House by illegitimate means.
"There is no doubt that Rep. Lewis is a hero," Kustoff said in response to a question from The New Tri-State Defender. "He's bled for this country…but the fact of the matter is that Donald Trump is going to be the president come Jan. 20 and he is going to be the president for the next four years. At the legislative level and at the executive level we need to learn to work with each other so that we can make this country as successful as it can be."
Haywood County is an important part of the 8th district, Kustoff said, detailing that the district he now represents has 15 counties, including part of Shelby County.
"I want the district to know that I appreciate the legacy of Dr. King and that as a federal representative I am going to continue to spread that legacy."
Kustoff's office apparently sought the opportunity for him to visit Brownsville. While there he heard a lot of concern about health care.
"It's obviously one of the most important issues. It's something we heard throughout the congressional campaign," he said. "As we talk about repeal and replace (of the Affordable Care Act), the repeal part has begun, the replace part is beginning. We want to make sure that we get input from everybody in the district and across the country so that we can make healthcare affordable and accessible."
Haywood County Commissioner Sheronda Rogers Green was determined to convey her concern about income disparities and healthcare.
"I would be the first to agree with him that it (the Affordable Care Act) does have some problems. However, I don't want them to throw out the baby with the bathwater," she said after engaging in an impromptu and public exchange with Kustoff after his formal remarks.
"I want them to take a really hard look at the problems that he mentioned. They are legitimate and they are true. However, I think we can improve upon it with adjustments and make this work for everyone."
Green came away thinking that Kustoff was open to more dialogue. "I'm committed to continue having that dialogue with him to make sure that our voice is represented at the federal level."
Too often, Green said, people take for granted what a Democracy and freedom means. It means more than complaining, she said, emphasizing the need to intelligently state what the problems are and, "if we can, be part of some viable solutions."
Democracy is working when you "have someone who is open to hear what you say and then on the other side we have to be persistent with saying what we think they need to hear," Green said.
Brownsville's challenges include low-income levels, she said.
"We're doing what we can on the local level to create jobs, put people to work, job readiness. We are on the rise but we have so many things to do to make sure that we leave a community, create a community that is better for our children than it was for us."
Brownsville Mayor William "Bill" Rawls Jr. said it was an awesome experience for Kustoff to visit Brownsville early in his tenure.
"When you represent a people, the people need to see you. They need to be able to talk with you and converse face to face," said Rawls, a businessman who grew up in Brownsville."
"Because we do have some questions," he said. "That (the Affordable Care Act) was the number one issue on our agenda because we have so many people who don't have insurance."
Noting that the hospital there has closed, Rawls said doctors' offices are filled with sick patients. "Our health disparities are through the roof…"
Rawls wants Kustoff to do all that he can to address Brownsville pain. And wants the same from elected representatives and officials at the state level.