By TSD Newsroom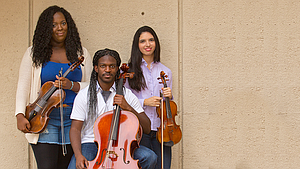 IRIS Orchestra and Clayborn Temple will co-present "Celebrating the Past: Creating a Future," a free, community-inclusive family concert in honor of Black History Month at 2 p.m. on Feb. 18 at the historic church in downtown Memphis.
IRIS's newest initiative, IRIS Artist Fellows C3Strings, features a multicultural string trio including Ashley Vines, viola; Ajibola Rivers, cello: and Mariama Alcântara, violin. The trio will join a host of local schools for the concert in celebration of diversity. Shelby County Schools participants include Kingsbury Overton high schools, as well as Art for Life's Sake and Carpenter Art Garden.
The event's narrator will be Kenon Walker, an actor who has helped develop guided tours for the National Civil Rights Museum and the Stax Museum and the events manager at the Memphis Brooks Museum of Art.
(For more information, visit www.irisorchestra.org https://www.claybornreborn.org/.)