By theGrio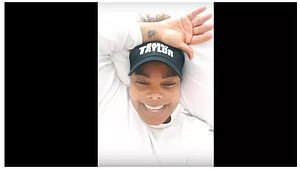 Janet Jackson is breaking her silence after canceling her world tour and leaving the public eye to have a baby.
In a heartfelt video, Jackson addressed her fans who have been patiently waiting to hear from her after taking a music hiatus and amid reports that she is divorcing husband Wassam Al Mana. The singer even poked fun at the so-called bags under her eyes and weight gain due to pregnancy.
"Hey guys, it's me Jan. Just in case you don't recognize me 'cuz I have put on quite a few since I had the baby, but I thank God for him you guys, he's so healthy," Jackson said. "I'm going to keep it real with you guys for a second: yes, I separated from my husband, we are in court and the rest is in God's hands."
Moving on to big elephant in the room (her tour), the singer announced that she will be hitting the road again soon.
"I'm continuing my tour as I promised. I decided to change the name of the tour – State of the World Tour," she revealed.
The State of the World tour is set for a 56-city run beginning Sept. 7, in Lafayette, Louisiana at the Cajundome. Jackson will also visit cities including Seattle, Portland, Philly, St. Louis, Chicago, Boston, Toronto and others. The tour set to end in Atlanta on Dec. 17.
Watch Janet's video message, click here.