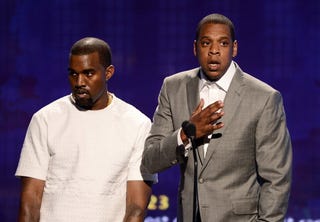 Between the shots fired between Jay-Z and Kanye West on their respective albums, anyone with a brain could have surmised that there was beef over money.
And now TMZ is reporting that Kanye West has left Jay-Z's Tidal music service, saying the company owes him more than $3 million.
Allegedly, the beef Ye has with Jigga is twofold: his The Life of Pablo album, which was not available anywhere but Tidal when it dropped, resulted in 1.5 million new subscribers to the service, for which West was supposed to get a hefty bonus. Ye also says Tidal reneged on reimbursing him for music videos.
Tidal's position is that Kanye didn't deliver the videos required by the contract, to which Ye reportedly responded, I'll deliver the videos when you run me my check.
Lawyers for the two superstars who collaborated on 2011's Watch The Throne, have been going back and forth, but alas, could not come to agreeable terms.
Tidal allegedly sent a letter to West saying that if he tries to go with another streaming service they'd sue him. And West, of course, says he'll sue right back.
Watch the Throne might morph into Game of Thrones in a minute. Stay tuned on this one.