By Karanja A. Ajanaku, [email protected]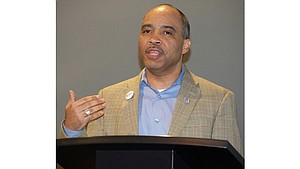 Cardell Orrin, Memphis director of the Stand for Children advocacy group, has had a dream for almost two years of doing a discussion series to lay the foundation for understanding what he has heard many describe as "our complicated education landscape" and where one starts to make sense of it.
On Tuesday night, Orrin's dream gave way to an unfolding reality as he moderated the Memphis Educational Equity Learning Series in tandem with MLK50, the yearlong commemoration of the 50th anniversary of Dr. Martin Luther King Jr.'s assassination at the Lorraine Motel.
The learning series is centered on Dr. King's platform of quality education, with the aim of providing a foundation from which Memphians can become more engaged in issues related to improving education quality and outcomes for students.
The series is designed to address the MLK50 theme, "Where Do We Go From Here?"
With taking action as the end goal, Orrin said the series was put together "so we all come in on a solid foundation of understanding where we are, where we've been and then think about where we're going and then start to advocate about where we're going."
Each element in the series is meant to build on the previous one en route to getting specific about the issues and getting more comfortable and ready to take action.
NCRM President Terri Freeman said she was thrilled for the museum to be engaged with Stand For Children and the other partner in the series. She also offered what amounted to her overview of the status of education.
"As much as has been done, we've haven't moved quite far enough…Maybe the Brown vs the Board of Education (federal school desegregation order of 1954) didn't really take," she said.
"My emphasis is less on how integrated a school is and more on the quality of education all students receive…If it's 100 percent white, I don't really care as long as all students are receiving a quality education and that one person wouldn't mind going to another person's school because they know they are not going to miss out on anything on the education opportunities that are going to be provided to them."
The series is the inaugural effort of Momentum Memphis. That's the campaign Stand for Children is spearheading, with the goal of uniting the Memphis community to take action to promote youth opportunity and success.
Momentum Memphis is pitched this way:
"Inspired by the number of people who heard Dr. King give his final speech in Memphis 50 years ago, Momentum Memphis aims to get 15,000 citizens to commit to taking at least two actions to support four education platform areas – Graduation Success for College and Career, Community Investment for Youth Success, Facilities and Funding our Students Deserve, and Breaking the School to Prison Pipeline – by April 2018.