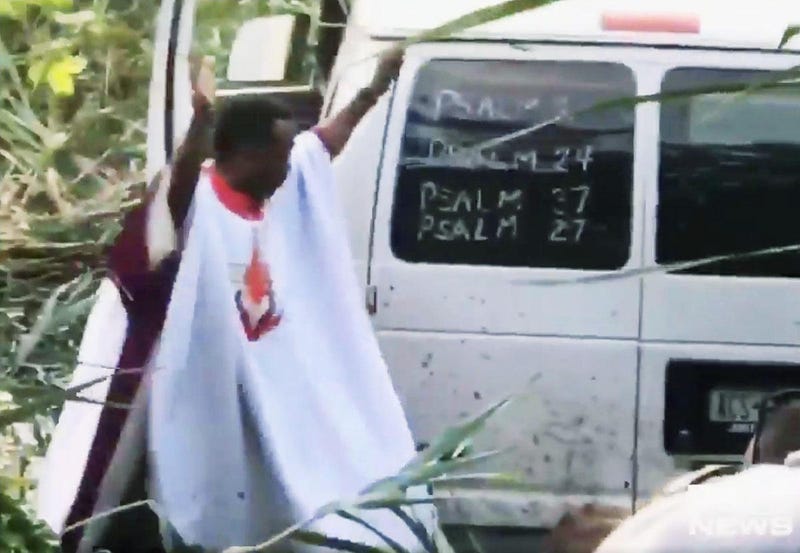 A wacked out man dressed in preacher's flowing
white robes plowed into six people, critically injuring two— before driving into
a pond on Saturday evening.
"Hallelujah!!
Praise Jesus!" said the unidentified driver, after emerging from a Ford
Econoline van, with the words "Psalm 24" and "Psalm 27" written on the back.
According to the New York Daily News, the
odd scene unfolded about 7:30 p.m. when the van suddenly accelerated to a high
speed on Brookville Blvd. in Queens, N.Y., and hit two teenagers, an
18-year-old man and 19-year-old woman crossing the street.
"It
tossed them in the air. Must have been about eight to 10 feet," said witness
Sean Hines, 46. "The man fell in the back of the van. The female fell in front
of the van. The van ran over the girl. Just ran over her."
The van then sideswiped a car, crushing
its back end, and ran over another pedestrian before crashing into the pond
inside Brookville Park.
The
driver emerged from the water with his hands in the air, robes flowing, gold
chain on, mumbling to himself, according to witnesses.
The two teens are in critical condition and
another victim is in stable condition, according to police.
Three others were in serious condition.
The driver was also taken to Jamaica Hospital
for an evaluation and charges were pending, according to police.
Read more at the New York Daily News.