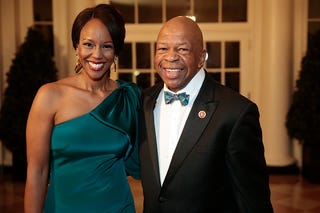 Maya Rockeymoore, a policy consultant and head of Global Policy Solutions, a consulting firm based in Washington, D.C., says she is strongly considering a run for governor of Maryland in 2018.
"I'm seriously looking at this race because I have a bold vision for a better, stronger Maryland," she said in a statement to the Washington Post. "I firmly believe that Maryland is ready for a different kind of leader."
The Post reports that no woman currently holds any of Maryland's four statewide, elected executive positions, and there are no women serving in the state's congressional delegation.
A Democratic political operative told the outlet that a key factor in Rockeymoore's considerations is that a woman should run in the primary.
Rockeymoore, who is married to Rep. Elijah E. Cummings (D-Md.), would be the first woman to join five declared candidates in the Democratic primary field set to defeat Republican Gov. Larry Hogan.
Rockeymoore, 46, who has contributed to The Root, is also a former adjunct professor at American University, and previously served as chief of staff to the now retired Rep. Charles B. Rangel (D-N.Y.) and as an executive at the Congressional Black Caucus Foundation.
She has been married to Cummings, who represents Maryland's 7th Congressional District, since 2008.
Read more at the Washington Post.