By Montee Lopez, Special to TSDMemphis.com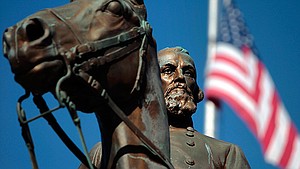 The push to remove two Confederate statues continues in Memphis with an assembly of local faith leaders having now written to the Tennessee Historical Commission in pursuit of support for moving the statue honoring Confederate General Nathan Bedford Forrest to a more appropriate place.
On Wednesday, a letter posted on medium.com conveyed the faith leaders' position to the commission. The commission meets on Oct. 13 and the faith leaders want commission members to seriously consider granting a waiver that would clear the path to removal of Nathan Bedford Forrest from Health Sciences Park .
The letter bears the names of 150-plus faith leaders from different religious sects. It expresses the concern that the Forrest statue "does not convey the complete story of our city's rich history" and advocates moving it to another place such as a museum.
"The Memphis clergy who have signed this letter believe that this is a critical moment in our city to continue to build unity through mutual understanding and respect among all of our citizens," said the Rev. Dr. Sandy Willson, who recently retired after 22 years as senior pastor of Second Presbyterian Church.
Some who support leaving the statue where it is say the effort to move it amounts to an effort at "erasing history." In the letter, the faith leaders assert that is not their intention, adding that it's "imperative that we understand history; the foundations of our society, of our country, and our faith traditions are built on that."
Notable pastors such as the Rev. Stacey Spencer (New Director Christian Church) and Dr. William Young (Healing Center Full Gospel Baptist Church) are backing the removal of the statues.
"Anytime there is a rise in racial progress, there is a subsequent rise in the use of Confederate propaganda," Spencer tweeted, quoting Dr. Aram Goudsouzian, history professor at the University of Memphis.
The 2013 Tennessee Heritage Protection Act requires towns and cities to get permission to move any monument. The process involves a series of hearings that could take up to a year, maybe more.
This is the City of Memphis' second attempt to get the state historical commission's approval.
Meanwhile, a proposed ordinance drafted by Memphis City Council Attorney Alan Wade, would declare the statues public nuisances, especially to the African-American community. It has passed on first reading, with the next on Sept. 19 and the third and final reading set for Oct. 3.
And on yet another front, activist Tami Sawyer and a coalition dubbed #TakeEmDown901 is circulating a petition urging the city to immediately remove the statues.
Mayor Jim Strickland said, "The more than 150 faith leaders who signed this letter represent a broad cross-section of the faith community in Memphis who stand united behind our efforts. We're grateful for their support."