By TSD Newsroom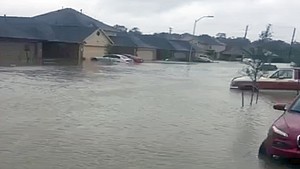 Like many in Greater Memphis, Dalicia Brye has relatives in Houston, where Hurricane Harvey and its aftermath have wreaked havoc. And like many with and without connections to family or friends, she has turned her concern into action.
With the support of several Memphis-area businesses, groups and individuals, Brye put together "From Memphis to Houston with Love" a clothing and supply drive being presented by Dollface PR and The Dash Consulting Firm.
Donations will be accepted on Thursday (August 31) from 3 p.m. to 7 p.m. at the Dr. Martin Luther King Jr. Labor Center at 485 Beale Street. Michael Ford, president of Local 1733 of the American Federation of State, County and Municipal Employees, readily made the union's headquarters available after Brye reached out.
Hurricane Harvey, which has claimed several lives, has displaced tens of thousands of Houston residents.
"It's truly devastating," said Brye, a freelance reporter for The New Tri-State Defender, one of the corporate sponsors of the food and clothing drive. "I literally watched a friend go live from the roof of his house on Facebook as his house was continuing to submerge underwater. So I woke up with a mission to serve and that's what I'm here to do."
On Wednesday morning, Houston resident Miranda Oklafor (Brye's cousin) was traveling to Memphis to stay with friends after having taken refuge at the home of Brye's parents in Dallas.
"All of my family valuables are gone," said Oklafor, the mother of three. "But that's OK. At this moment I'm just trying to make sure my children have clean and dry clothes until we're able to get on our feet."
The backing of a trio of sponsors – Walmart, Fleet Equipment, LLC and LT Presents, LLC – has netted a 53" trailer, as well as boxes and other supplies for the Houston-support effort, Brye said.
As for donations, Brye said the appeal is for new and gently-used clothing, as well as water and other toiletries. A Go-Fund Me account has also been created to support the contents of hygiene bags that will be distributed to Houston residents.
"Just seeing how everyone is so proactive about providing relief really does my heart some good," Brye said. "This could be us at any given moment, and I couldn't be more thankful!"
(For more details, visit From Memphis to Houston on Facebook page.)