By Tony Jones, Special to The New Tri-State Defender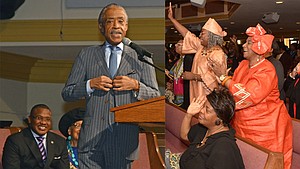 The Rev. Al Sharpton delivered a Memphis version of a sermon constructed for Black History Month during his appearance at Mississippi Boulevard Christian Church's main campus last Sunday.
Sharpton's ongoing role as president of the National Action Network (which he founded) and his high-profile media status meld with the essential fact that he is a preacher. All of those elements were in full effect as he visited The Blvd at 70 N. Bellevue Blvd. following an earlier stop at the church's Southwind campus at 8220 E. Shelby Drive.
Drawing from the biblical book of Joshua, Sharpton artfully crafted a message that stirred the crowd that turned out for The Blvd's Heritage Sunday Black History Month celebration. At points, the balcony shook.
"My blessings can't be Trumped," he roared in a summation to his early reference to President Donald Trump, whom he labeled "Hurricane Trump".
Declaring that, "We always had to struggle," Sharpton said, "Some of us got so comfortable under President Obama that many of us said that maybe we were living in a post-racial era. Well, maybe God let Trump win to wake some of us up."
Sharpton's ties to Memphis include his link to Mississippi Boulevard's Senior Pastor Rev. J. Lawrence Turner, who serves as secretary of the NAN board. His visit and the Black History Month celebration was accented by the music of Nashville's renowned Belmont College Chorale.
His sermon was laced with lessons and admonitions drawn from experiences, including a televised panel encounter with a self-proclaimed black conservative following the death of Eric Garner in New York City in July 2014. A NYPD police officer applied an illegal chokehold to the unarmed Garner. The medical examiner said he died from a combination of the chokehold, chest compression and poor health.
"He (the black conservative) told me, 'Rev. Al, I don't know about all this marching and protesting and stuff y'all be doing. Civil rights is alright I suppose, but civil rights didn't make me. Look at my resume. I went to the right schools. I was a member of the right fraternity. I had the right connections. Read my resume.'"
Sharpton recalled looking at the resume and telling the panelist that it was very impressive.
"'You were at the right schools, a member of the right fraternities; had the right connections," Sharpton said, relating the exchange.
"'Civil rights didn't right your resume. Civil rights made somebody read your resume. You're not the first qualified Negro in America, but they didn't have the options you had.'"
Noting that he often meets similar-minded people that he labels "Senior Vice Presidents of Irrelevance," Sharpton warned, "Don't you ever forget some unelected, illiterate grandfathers laid down in the gutter … sacrificed and sponsored you.
"If you choose not to be active, if you choose not to be involved, at least don't be ungrateful."