By theGrio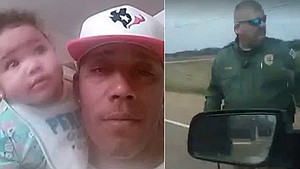 On Thursday, a Tennessee man livestreamed his interaction with police officers that led up to a police-involved shooting on Facebook Live.
Rodney James Hess was reportedly acting erratically and tried to hit the police with his car "at least twice" before he was shot, according to the Tennessee Bureau of Investigation, per NBC News.
In the livestream, Hess can be heard to ask to speak with "the higher command" before he makes some kind of motion and is shot several times through the windshield. He can be heard screaming before he then apparently crashes the car. Although Hess was airlifted to the hospital, he died of his injuries.
Although he was reported to be acting erratically, his fiance, Johnisha Provost, said that his requests for a "higher command" meant that he was asking for help.
"He couldn't get his mind together. That's why he asked for a higher command," she told the Commercial Appeal Friday. "I always told him, 'Babe, if you are ever in a situation where you need help, ask the person in charge for the higher command to help you,' and that's what he kept saying."
"He just suffered from mental illness and people need to be aware of how to deal with mental illness," Provost said. "They could have just shot his tires out or they could have handled it differently. They didn't have to kill him."
The incident is under active investigation.
Watch video here